Meat Market Miami steak house opens in Isla Verde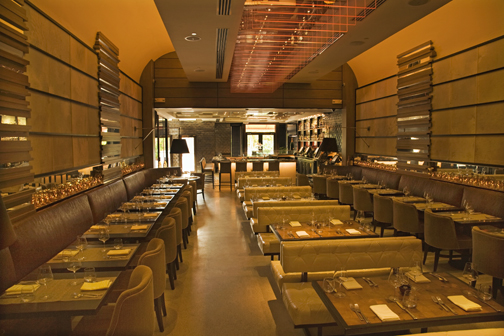 Meat Market, a modern and contemporary steak house and seafood restaurant whose location in Miami is a magnet for celebrities, will open its second eatery in the Isla Verde sector of San Juan this Thursday, just in time for Puerto Rico's December-to-April peak tourism season.
The 6,000 square-foot fine dining restaurant will occupy the former venue of The Palm steak house at El San Juan Resort & Casino in Isla Verde, which has been completely overhauled following a $2.5 million investment. The new eatery has created 80 new jobs, General Manager Dario Iovannone said Tuesday during a sneak-peek offered to members of the media.
"What we want is to amaze our customers. Bring something different to Puerto Rico. I believe that the owners felt comfortable coming to Puerto Rico, given that Miami is an American city with a lot of Latin influence, while Puerto Rico is a Latin island with a lot of American influence," he said.
Aside from having a business relationship, David Tornek, owner and manager of Meat Market, and Edwin Torres, who brought the brand to Puerto Rico, are also friends — which also factored into picking the island for the new restaurant opening, Iovannone said.
"San Juan is a perfect city to open a restaurant like Meat Market due to its vibrant culture, sexy energy, sophisticated residents and seasoned travelers," Tornek said, of the restaurant that for now will offer dinner service.
The restaurant's upscale menu, prepared by Chef Sean Brasel, features different cuts of meats, fresh seasonal seafood and chicken available for different price ranges directed to the local market as well as tourists. The Meat Market also boasts an extensive wine selection of 350 domestic and international varieties from Italy, Spain, France and the U.S. mainland, Iovannone said.
The Meat Market invested more than $100,000 in its wine cellar, he added.
The Meat Market in San Juan seats 165 people throughout its dining room, lounges and bar area, which are wrapped in warm woods and gleaming metals, giving it a more glamorous take on the traditional steak house. The eatery also features a "crudo" bar, where guests can get small fresh plates made on the spot, to order, like "tiraditos" (raw fish cut in sashimi style) and "ceviches."
"Our menu here is almost the same as in Miami, with the exception that we've adapted it somewhat to include fresh local ingredients, such as fish and root vegetables. Certain dishes that are featured in Miami are not included in the local menu, but we'll offer them as specials to test the public's response to them," Iovannone explained. "That way, those who know the restaurant in Florida can come to Puerto Rico and find something a little bit different.