MISTR founder Tristan Schukraft buys Tryst Beachfront Hotel, Circo bar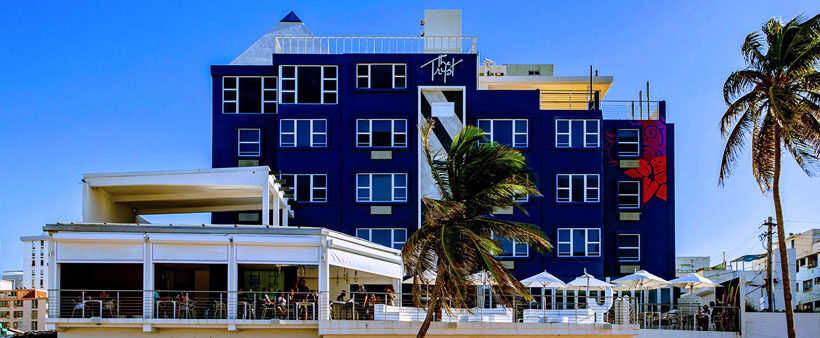 Entrepreneur Tristan Schukraft, the founder and CEO of telemedicine platform MISTR, has added hotelier to his resume with his acquisition of The Tryst, the iconic boutique hotel, restaurant and bar in the Condado sector of San Juan. The purchase includes the real estate and all assets associated with the property.
A $6 million renovation is underway to turn the property into "the center of LGBTQ life" in Puerto Rico, he said.
The press release called The Tryst one of the most popular tourist destinations in Puerto Rico.
"Located directly in front of San Juan's only gay beach, The Tryst has been a favorite of locals and tourists alike since it opened as The Atlantic Beach Hotel in the 1960s," the release reads.
The property features 36 rooms with ocean views, a two-bedroom penthouse, and a restaurant and bar.
The hotel recently received Tripadvisor's 2023 Travelers' Choice Award for ranking in the top 10% of hotels worldwide.
Schukraft has also purchased Circo, a nightclub that was considered by many to be a premiere spot for LGBTQ nightlife before it closed several years ago. Under his ownership, the objective is to restore the energy at the club that locals loved, while introducing world-class, Vegas-style entertainment to visitors who seek a memorable Caribbean nightlife experience.
"I'm excited to help reinvigorate the LGBTQ scene in Puerto Rico while building upon the legacy of these two amazing venues," Schukraft said. "Our team is committed to taking The Tryst and Circo to the next level, giving plenty of reasons for visitors and locals alike to come out and play, all day and all night."
John Tanzella, CEO of the International LGBTQ+ Travel Association (IGLTA), said: "We're excited to showcase the revamped Circo Bar and The Tryst, an iconic IGLTA member hotel, to our global network. This transformative initiative in San Juan will revitalize these queer spaces, offering vibrant venues for the LGBTQ+ community to flourish while honoring their rich history."
"I look forward to seeing the positive impact this will have on the local gayborhood and beyond when we bring our 40th anniversary global convention to San Juan in October," Tanzella added.
Before acquiring The Tryst and Circo, Schukraft founded and built MISTR, which offers free online access to pre-exposure prophylaxis, long-term HIV care and STI testing in all 50 states, Washington, D.C., and Puerto Rico.
The Tryst remains open during renovations. Circo is scheduled to reopen this fall.