Op-Ed: Setting up 'Health Insurance Exchange' for Puerto Rico employers
On June 28, 2010, the U.S. Supreme Court ruled that the HC Reform is largely constitutional, upholding the individual mandate provision. The individual mandate is the provision that requires Americans to maintain health coverage. While it is still uncertain if this provision would apply to Puerto Rico, or what impact it would have on the HC Reform come January 2013, we are certain that employers will continue to face challenging decisions regarding healthcare.
In Puerto Rico, there is much uncertainty around 1) the effect of the reform for employers and its employees, and 2) if the penalties would also apply to Puerto Rico.
One thing is certain; there is a fundamental shift in employer-sponsored health care. The rising costs of health care and the deteriorating health of employees are forcing employers in Puerto Rico to consider other options. The HC Reform provides employers with more options to choose from when deciding the type of coverage they can provide to their employees and their families.
Following this premise, employers have the following decisions to make:
Stay in – Employers can decide to stay in and continue mitigating the annual health care trend, which is to continue managing their health benefits programs in the same traditional way.
Stay in – Employers can decide to continue or start aggressively managing health care by creating a more demanding program (via incentives, penalties, and 'gatekeeper'), which provides better benefits to those participants who make choices that are right for his health and therefore, for the organization.
We're out – Employers can decide to exit or reduce their involvement in health care, providing only the minimum benefits needed to avoid penalties.
We're out – Employers can decide to exit, however, leverage a private health care exchange. In doing so, employers can fix their company subsidy via defined contribution account and contracts with other employers and TPAs to offer an array of insurance plans for employees to choose from.
Today, most employers in Puerto Rico are participating in one of the above options except the exchange concept. Corporate Exchanges are gaining popularity in the U.S., and several multinationals today participate in private health care exchange.
To test which Puerto Rico employers are interested, Aon Hewitt conducted a corporate exchange survey. More than 60 employers (ranging from 50 to 24,000 employees with an average of 1,800 employees across all respondents) answered the survey. Sixty eight percent of the participants expressed an interested in exploring a corporate exchange model. The remaining 12 percent either were not interested or were undecided. These statistics indicate that even when employers are not sure what decision they will make, they recognize the status quo is no longer sustainable, thus the need to take action.
It's no surprise 87 percent of employers in Puerto Rico are strongly committed to providing health care coverage to their employees either by selecting the health plan, or suggesting a few plans for employees to choose from through sponsorship of a traditional health benefits program. In either arrangement, the employer pays a percentage of the benefit premium.
In Puerto Rico, there would be significant advantages offered by the private exchange marketplace to all parties-employers, employees, and insurance providers.
Some key drivers to participate would be: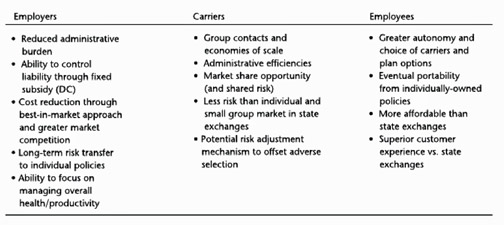 At Aon Hewitt, we are committed to improve health, enable retirement and build high performing talent for our clients, and the HC Reforms provides the perfect scenario for us do so. We believe we have an opportunity for employers to set the vision of what they would like health care programs to look like in the next three to five years.
Once the vision is established, the path to get from one place to the other will involve creating a format strategy, taking advantage of all of the options available under the health reform to better manage costs, and improving the population's health in a way that leads to a healthy workforce that is present, productive and drives organizational success.
We are already in talks with several employers in Puerto Rico and are excited to provide them with innovative solutions so we can help them move to the 'Next Generation of Health Care.'