P.R. scouting for Hollywood business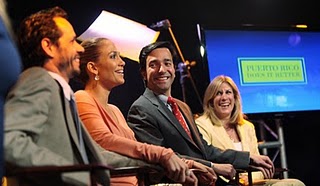 Hollywood power couple Marc Anthony and Jennifer López, who are of
Puerto Rican descent, along with Gov. Fortuño and first lady Lucé Vela
share a light moment during Friday's signing ceremony.
The island's allure for the glamour and glitz of Hollywood got a new boost Friday when Gov. Luis Fortuño — accompanied by performers Marc Anthony and Jennifer López — signed the new Puerto Rico Film Industry Economic Incentives Law that grants a slew of benefits to movie producers.
The law grants new credits and expands the scope of the type of productions that can benefit from them. For one, it grants a 40 percent credit on production costs for a film or television project, including full-length or short films, documentaries, series, miniseries, and recording of live performances. It also offers a 20 percent credit over expenses related to non-resident talent participating in the project.
Thirdly, the new law includes new media within the incentives framework, such as commercials and music videos, under the premise that they serve as training workshops for new film and TV technicians.
"With this law, we optimize the package of incentives available for the film and television industry so that we can compete fairly with other jurisdictions," said Fortuño during the signing ceremony in Bayamón. "Similarly, the law allows us to develop the necessary infrastructure to convert Puerto Rico into a worldwide mecca of film and television production, including the development of high-capacity production studios."
In that sense, it was fitting that power couple Anthony and López — who are of Puerto Rican decent — be present at the signing, as it has been reported that they have plans to develop a large-scale production studio in Puerto Rico. However, no details were forthcoming during the press conference.
Since the early 90s, Puerto Rico has played a major role in Hollywood, setting the backdrop for countless movies, television series and specials. Last year, the island hosted more than 10 Hollywood projects, including "Fast Five," the first full studio production to be filmed locally, Walt Disney Pictures' "Pirates of the Caribbean 4," and Warner Brothers' "The Losers."
In all, the industry pumped $43 million into the local economy and created nearly 20,000 direct and indirect jobs. Big-budget productions also bring benefits to the tourism industry, generating 22,671 hotel room night reservations and putting a spotlight on Puerto Rico's natural attributes, preserving them on film.