Parallel18 unveils Impact Report in its new podcast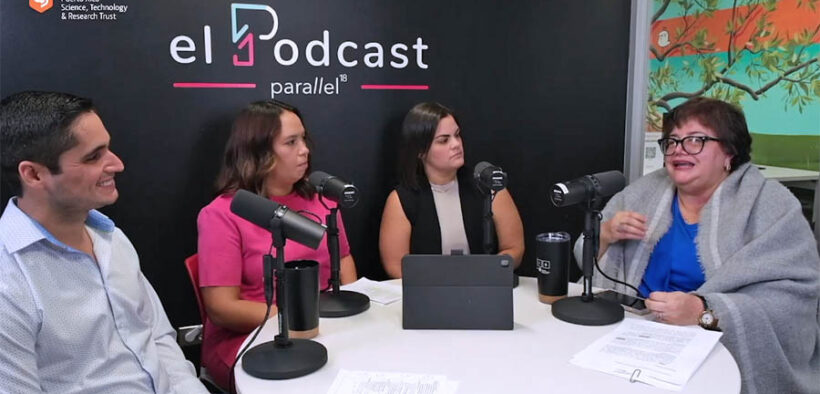 Parallel18, the primary entrepreneurship program of the Puerto Rico Science, Technology and Research Trust, announced the launch of a new podcast titled "parallel18, el Podcast," during which it shared the results of its most recent Impact Report.
The document highlights the success of the curriculum of its pre-acceleration program for local companies, pre18, and acceleration program for international companies, P18. It focuses on the achievements of the 35 companies that participated in 2022 in both programs. The report also presents cumulative results and updates from alumni companies across all cohorts, and details about parallel18 subprograms.
Parallel 18 is an economic development initiative that attracts high-impact startups from Puerto Rico to scale internationally. Its goal is to establish the island as a hub for developing innovative businesses with global potential.
In 2022, $1.5 million in grants were distributed between both programs to participating Gen. 4 (pre18) and Gen. X (P18) companies. It should be noted that 27 companies participated in pre18 Gen. 4, while eight companies graduated from P18 Gen. X. This last cohort was a special edition, with each startup receiving $125,000 in grants, in addition to $25,000 in investment. This marked a 275% increase in the money awarded to each company compared to previous years.
Concerning the valuation of companies from both programs, their combined worth is $68.9 million. For capital raised, the eight Gen. X companies obtained $961,000, while the 27 pre18 Gen. 4 companies totaled $2.3 million.
During the podcast — which was moderated by parallel18 marketing Manager Lissa Barreras and included guests Héctor Jirau, parallel18's executive director; Lucy Crespo, the CEO of the Puerto Rico Science, Technology and Research Trust; and Natasha Martínez, parallel18 program manager — the group discussed results from the parallel18 Connect and parallel18 Ventures subprograms and shared success stories of program graduates.
The initial episode of the podcast spotlighted success stories of graduate companies in the parallel18 Ventures subprogram, which are detailed in the Impact Report. Among them is Chilean food-tech company The Live Green Co., a Gen. 7 alumnus of the P18 program. It secured a $7 million Pre-Series A round to further its mission of creating clean-label foods that are additive-free, sustainably produced, healthily formulated and accessible.
Another notable Puerto Rican company is RainCoat, which participated in both Gen. 2 of pre18 and P18 Gen. 8. The company, which develops hurricane insurance policies, raised $4.5 million in seed capital with backing from insurance tech investor Anthemis and investment group SoftBank. Rise of The Rest also participated in this capital fundraising, a connection facilitated by a Venture Summit event hosted by parallel18.
Additionally, leading Puerto Rican real estate data collection firm Red Atlas, and participant of pre18 Gen. 4 and P18 Gen. X, announced the closing of a $1.2 million seed capital round. The startup recently acquired the Colombian platform Finco, which specializes in algorithmic real estate valuations. The acquisition strengthens Finco's technology, ensuring clients receive more precise appraisals and valuations.
Parallel18 Ventures
Parallel18 Ventures' subprogram helps startups create a "strong investment strategy," while linking them to a select investor network. The subprogram invests in startups via a matching fund designed to co-invest in recent P18 graduates. The program currently supports 34 companies in its "Matching Fund" portfolio, which have collectively raised $48,979,000. Additionally, of the 34 companies that benefited from the Business Continuity Fund, 29 have raised $24,824,800.
"Parallel18 once again publishes an impact report with incremental, positive and favorable results for the entrepreneurial ecosystem of our island," Jirau said. "We want to continue creating a positive impact on the country and provide the necessary tools for our participants to achieve an impact on the economic development of the country.
"The results support the potential that Puerto Rico has to leverage, expand and create disruption in innovation, with nothing to envy the most advanced ecosystems, such as Silicon Valley. Both local and foreign entrepreneurs that trust our capabilities, resources and access to support their company using Puerto Rico as a central point of doing international business see that we are on the right path to becoming a high-impact island in innovation."
Crespo said that the track record of parallel18 and its P18 and pre18 programs over the past six years "exemplifies the impact that we can make," thanks to the resources and financial capacity of the Trust.
"This allows parallel18 to continue supporting scalable businesses that use Puerto Rico to establish and grow. In addition, the program continues to work on offering company founders a guide that leads them to own and grow their companies," Crespo continued. "At the Trust, we are very proud to present these results, which are stronger year after year and reflect an increasingly robust ecosystem. These results are crucial to continue growing and diversifying the economic development of Puerto Rico."
Additionally, Parallel18 Connect helps startups in expanding on the island and encourages large industries in Puerto Rico to become more competitive by integrating the latest market innovations. This is achieved by connecting large corporations with relevant startups that provide corporations with the necessary tools to foster innovation and entrepreneurship.
"The most important short-term plan is that we are about to inaugurate a new physical facility, known as the Forward Center," Crespo added. "One of its main purposes is to serve as a workspace for parallel18 alumni. It is an extraordinary facility that includes, among other things, a virtual reality laboratory unique in Puerto Rico. This space is significant because many companies can use it to develop their products, showcase them and provide demonstrations to their clients."