Triple-S, Walmart partner for 'Vivir Saludable' program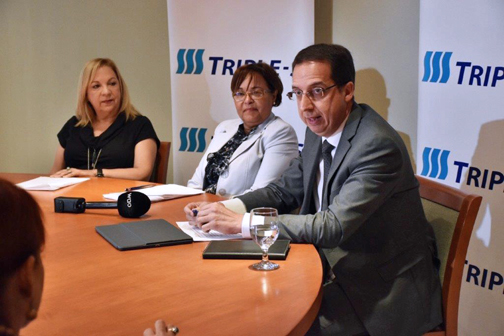 Triple-S, Walmart and the Salus clinic have teamed up to develop "Vivir Saludable," a diabetes management program for employees that has yielded significant health improvements for participants and positively impacted productivity among the retailer's associates, the companies said Wednesday.
The program — which has 178 participants — has so far achieved a reduction in the blood sugar level of 9 out of 10 participants, while 6 out of 10 have reduced their body mass index and 5 out of 10 their cholesterol levels. "Vivir Saludable" has been so effective that Walmart and Triple-S are sharing the case study in a panel discussion at the Society for Human Resource Management's (SHRM) annual convention on Sept. 16, officials confirmed.
"At SHRM we will explain the benefits of implementing a similar wellness program for chronic disease management. This is a program that can be easily replicated in most of Puerto Rico's businesses," said Elena Díaz, vice-president of Account Management at Triple-S.
"At a time when companies need to innovate, we asked Triple-S to do something different for this population and jointly we started to give shape to a program that has produced clear benefits for participating associates, for Walmart and for Triple-S," said Isabel Soto-Albors, director of Total Rewards & Compliance of Walmart Puerto Rico.
The collaboration came about when Walmart officials stated they wanted to offer their diabetic associates additional support in managing their condition.
One out of five people in Puerto Rico suffer from diabetes. Without proper management, the disease can cause serious health problems, affect the productivity and quality of life of those who have the condition and impact the health system with high costs, particularly if it is not managed effectively.
"Salus, our clinic, developed an innovative program based on Mayo Clinic protocols that include doctor visits, nutritionists, a health coach, psychological services, a visit to the supermarket with family members, and, more recently, we have added biomonitoring. This technology, which operates 24/7, allows the clinical staff to know when a patient's blood sugar is out of control and determine what measures should be taken," said José Novoa, chief medical officer of Triple-S.
Participants receive all of the services — from lab work to educational presentations about physical activity — in a single place. A multidisciplinary team that works in coordination around the patient's needs and shares an electronic medical record serves them.