PRCCI hosts 1st 'PR Patient Advocacy Group Symposium'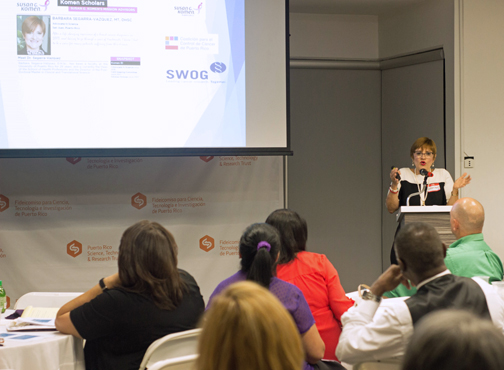 The Puerto Rico Consortium for Clinical Investigation (PRCCI) recently hosted the First Patient Advocacy Group Symposium in Puerto Rico to bring together various patient advocacy groups, patients, investigators and other individuals interested in finding innovative and joint solutions to improve the lives of Puerto Rican patients.
PRCCI and its partner, Yale Center for Clinical Investigation (YCCI), introduced JUNTA for Progressive Action Inc. (JUNTA), the oldest Latino, community-based, nonprofit organization from Conn. to the symposium.
Participants learned from JUNTA about the efforts undertaken by this organization and the successes they had in community outreach for minority and underserved communities.
The 60 attendees of the symposium included representatives from diverse patient organizations such as: Susan G. Komen, H-IDEAS, Fundación FER, Asociación Puertorriqueña del Riñón, Sociedad Americana del Cáncer, Coalición de Cáncer Colorrectal, Asociación Puertorriqueña del Pulmón, Asociación Puertorriqueña de Diálisis Peritoneal, Sociedad Americana contra el Cáncer de Puerto Rico, Fundación Huntington Puerto Rico, Grupo de Apoyo- Fibromialgia, Asociación Puertorriqueña de Ayuda de Pacientes de Psoriasis. Physicians and students from Universidad de Puerto Rico and Universidad Central de Caribe also participated.
"Being able to be in the same room with patients and representatives from different organizations allowed us to recognize that there is a great potential to collaborate to improve the health of the people in Puerto Rico," said Bárbara Segarra-Vázquez, dean of the School of Health Professions, at the University of Puerto Rico's Medical Sciences Campus.
The symposium fully met its objectives to form a community of different patient advocacy groups, which all share similar goals, and through collaboration, find ways to address common challenges and pursue new and innovative opportunities which empower patients.