Planning Board projects economy will grow by 0.9% in Fiscal '12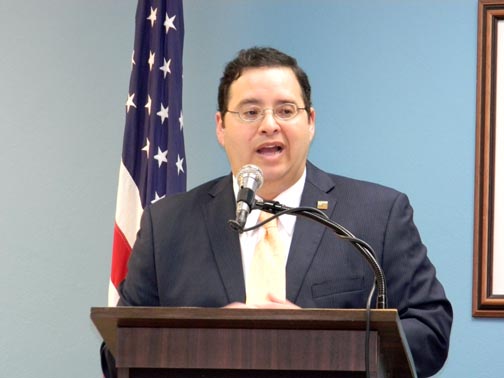 Fueled by a recovering stateside economy and a string of renewable energy construction projects, Planning Board President Rubén Flores-Marzán said Thursday the island's economy is improving at "a greater rate than expected," projecting a 0.9 percent growth for Fiscal '12 that ends June 30.
The number is slightly higher than the 0.7 percent previously expected for the year, he said, adding that the upswing is expected to continue in Fiscal '13, when a 1.1 percent growth is projected.
"This is the first time since the recession began in 2006 that Puerto Rico's economy will have grown, rather than contracted," he said, during a news conference at the agency's Minillas Center headquarters, adding it would be the "most robust economic growth since 2005, when it grew 1.9 percent."
Flores-Marzán explained that although the "base" projection for this fiscal year for a positive growth of 0.9 percent, the economy may end up growing as much as 2.0 percent. In addition to the "base" projection, the Planning Board also prepares projections under high and low scenarios — more optimistic and less optimistic.
While the low-end estimate for Fiscal '12 is -0.2 percent, the maximum growth estimate for fiscal year 2013 is 2.3 percent, while the minimum would be -0.1 percent.
"Sometime ago we saw the light at the end, but we are now in effect leaving the tunnel," Flores-Marzan said. "Clearly, measures we have taken to achieve fiscal stabilization and stimulate the economy are working."
"Local and foreign economists have said it and it's what we see reflected in these recovery and economic growth projections for this and next fiscal year," he said.
Among the factors taken into consideration in preparing the projections are the economic performance in the U.S. and the rest of the world, public and private investment and the impact of the Tax Reform benefits.
Moreover, the price of oil, adjusted merchandise exports, personal consumption expenditures, visitor spending, investment in construction, machinery and equipment, federal transfers and the adjustment in Social Security are other factors considered, he said.
"The projections are based on various indicators and assumptions. That's why these projections should be adjusted to the performance of these assumptions that we do not control," he admitted.
Another of the elements factored into the growth projections are the combined $500 million in investment in renewable energy projects, which while producing long-term effects, do not generate a significant number of jobs once operational.