Polytechnic, Huertas Junior College sign educational pact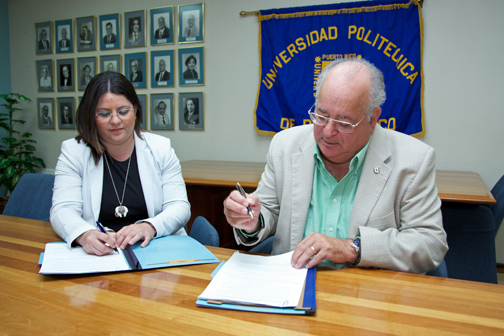 The Polytechnic University of Puerto Rico and Huertas Junior College recently signed an agreement that will facilitate transfers of students enrolled in the latter's associate degree programs to the former's bachelor's degree programs.
"At Huertas Junior College, we support and foster the interest our students have to continue their studies and continue to prepare for a successful professional future. We know this kind of agreement opens doors and makes that goal possible," said María del Mar López, president at Huertas Junior College.
The agreement provides that the Polytechnic University will validate approved courses for students who completed an associate degree at Huertas Junior College in the areas of management, accounting and electrical technology, and who wish to pursue studies in the School of Management and Entrepreneurship, and complete a bachelor's degree in business administration with a minor in accounting or BS in business administration with a minor in general management. Transferring students can also pursue a degree in electrical and computer engineering.
"We're sure that in our university, Huertas Junior College students will find the tools necessary to complete their bachelor's degrees quickly and prepare themselves even better for their professional future ahead," said Ernesto Vázquez-Barquet, president of the Polytechnic University in Hato Rey.