Popeyes Puerto Rico opens $1.4M restaurant in Cayey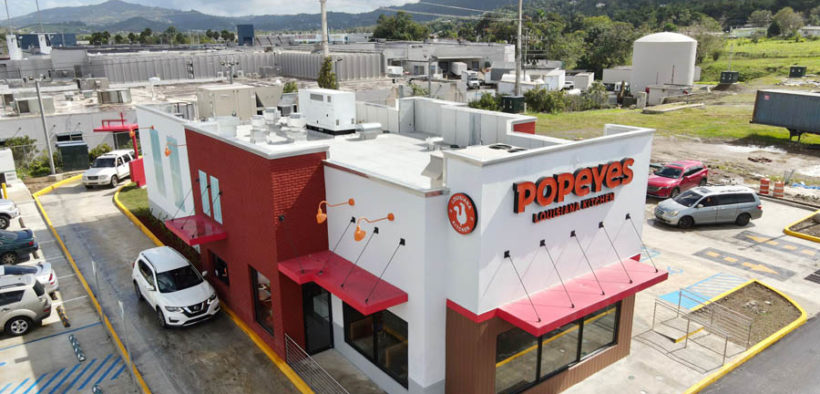 Popeyes Puerto Rico kicked off the new year with a new restaurant in Cayey, which marks the 19th local store since it began operations in the island in 2005. The 1,800 square-foot location entailed a $1.4 million investment
The store, located close to Marshall's at the Marginal of the Jesús T. Piñeiro Ave. and just a few minutes from the Luis A. Ferré highway in Cayey, will employ 50 people who will join a team of 700 employees islandwide.
"I have personally seen the growth of the brand locally since we first opened in 2005. It's been an exciting, rewarding, and challenging experience given the natural disasters that affected the Island and the whole business eco-system in the last five years," said Eduardo Zúñiga, vice-president of Operations for Popeyes Puerto Rico.
"But there have been two constants during that time: the love for our Cajun taste, and the unequivocal support of our staff despite the worst scenario," he said.
The new restaurant provides "an engaging Popeyes experience, as well as an updated company imaging centered in NOLA (New Orleans) with a contemporary décor and bright colors inspired by the distinctive style of Louisiana street art, to spark joy," company officials said.
Popeyes new Cayey location, joins other 18 stores located at Carolina (two restaurants), Ponce, Mayagüez (University Plaza and in front of Mayagüez Mall), Caguas (Las Catalinas and close to Walmart), Santa Isabel, Trujillo Alto, Dorado, Hatillo, Santurce, Cupey, Levittown, Bayamón (Rexville and in front of Plaza del Sol), Roosevelt Ave., and Plaza Las Américas.
Popeyes distinguishes itself with a unique "New Orleans" style menu that features the world-famous Chicken Sandwich, spicy chicken, chicken tenders, fried shrimp, and other seafood.