'PR Business Link' online directory targets newcomers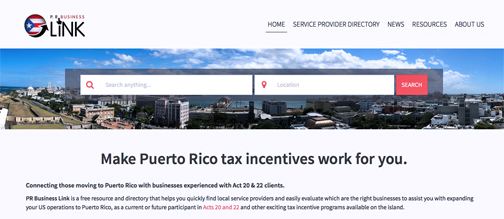 "PR Business Link," an online tool designed to to help Act 20/22 businesses and individuals who are considering moving or are already established in Puerto Rico to get the services they need through a directory that consolidates services and resources in one place.
The online tool caters to the needs of the increasing number people who are seizing the opportunity of Puerto Rico's tax incentives and provides a new business opportunity for local companies, which promote their business to a direct and targeted audience for free. The directory gives users the ability to review the service providers and read reviews from others who have used their services.
"Before people even make the decision to move to Puerto Rico, they are searching for service providers online. However, they can't easily find the information that they need. I personally spent many hours in front of my computer researching the Internet for resources that led me to incomplete or out-of-date information," said Lisa Cogliati, co-founder of PR Business Link.
"The available sources didn't necessarily provide me with answers that I was looking for. And then, when I found one, how could I know that it was trustworthy? It wasn't easy for us," she said. "After all the hardships that we went through during our move, I realized that I wanted to support others who were moving to Puerto Rico. That's how my business partner and I created PR Business Link." said Cogliati.
"At PR Business Link we provide a wide variety of engagement opportunities to help bring visibility to local business and service providers. We've created a platform that will help them bring new clients and present their brand at the forefront of the local business industry," said Michael Harrison, the company's co-founder.