Puerto Rico economic index stuck in negative growth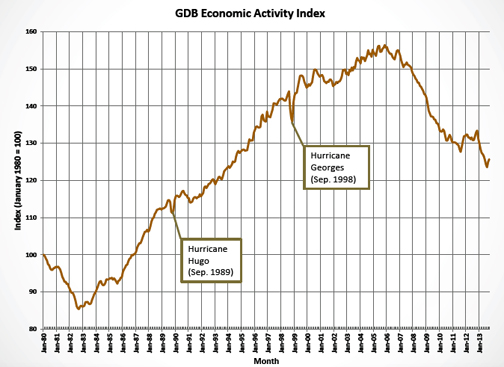 Following what can only be called an attempt to avoid the unavoidable, the Government Development Bank finally posted the Economic Activity Index — with weeks of delay — for the months of September and October, revealing results that keep Puerto Rico in negative territory for the 11th consecutive month.
The index shows that September registered a 5.2 percent year-over-year reduction, while October reflected a 5.4 percent drop when compared to the same month in 2012.
The GDB-EAI report also noted two consecutive positive month-over-month growth rates, in September and October 2013, which Gov. Alejandro García-Padilla called "progress" during a radio interview earlier in the day.
Although the report does not reject his affirmation outright, it indicates that "while it cannot be concluded that the economic activity is necessarily experiencing an effective inflection point, these are the first months of increase since October 2012."
The GDB-EAI report is based on four key economic indicators: gasoline consumption, non-farm payroll employment, electric power generation and cement sales.
In September, preliminary number of gasoline consumption was 93.1 million gallons, or 2.3 percent below September 2012. The Fiscal 2014 year-to-date gasoline consumption number was 3.1 percent below the corresponding number for Fiscal 2013.
Total non-farm payroll employment for September averaged 885.4, an annual reduction of 5.4 percent. Furthermore, Fiscal 2014 YTD total non-farm payroll employment showed a decrease of 4.6 percent.
Electric power generation for September totaled 1.8 billion kWh, an annual decrease of 3.6 percent. Electricity generation for Fiscal 2014 YTD was 3.3 percent less than during the same period of Fiscal 2013.
Meanwhile, September cement sales totaled 1.22 million bags, registering an annual reduction of 21.3 percent. Sales for Fiscal 2014 YTD were below 17 percent with respect to the figure for the same period of Fiscal 2013.
The results were not that much better in October, when gasoline consumption was 90.5 million gallons, or 4.7 percent below October 2012; non-farm payroll employment averaged 894,600, an annual reduction of 5 percent; electric power generation totaled 1.9 billion kWh, an annual decrease of 3.2 percent; and cement sales totaled 1.41 million bags, representing a 14.6 percent drop.