Puerto Rico development bank, CofC partner to support startups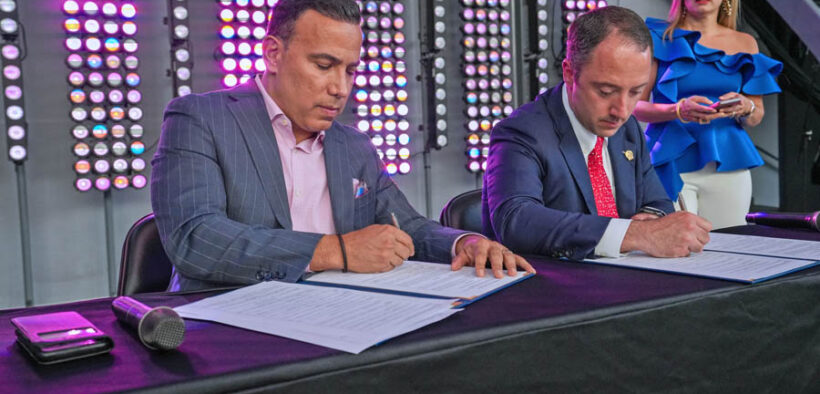 The president of the Puerto Rico Economic Development Bank (EDB), Luis Alemañy, and the president of the island's Chamber of Commerce (CofC), Cameron McKenzie, have announced a new partnership, the Alianza Para Apoyar Startups, or Alliance to Support Startups.
The agreement, signed at the annual Puerto Rico CofC convention held at the Distrito T-Mobile entertainment complex in San Juan, seeks to provide startups with tools and resources to boost their growth and increase the competitiveness of their products and services.
Alemañy explained that the alliance aims to foster entrepreneurship and stimulate economic development on the island, particularly in the post-pandemic context. According to the EDB's Economic Studies Center, 1,085 new businesses were registered in the third quarter last year, creating 5,120 new jobs.
Included in the agreement are a series of funding programs designed to support local entrepreneurs in starting their new businesses and their expansion and growth projects. The EDB will offer direct loans or lines of credit up to $500,000, at an annual interest rate ranging from 4% to 8%, to companies that have been operating for a year or less.
The agreement also includes access to business and finance training and advisory programs, as well as technical and financial support to the CofC for events and activities aimed at promoting entrepreneurship and economic development.
"We are pleased to establish this alliance with the Puerto Rico Chamber of Commerce to provide opportunities and resources for the entrepreneurs of our island," Alemañy said. "As part of Governor Pierluisi's administration, we are dedicated to working towards creating a prosperous economy for entrepreneurs and for the general well-being of Puerto Rico. We will continue to support our entrepreneurs, who are a fundamental part of our economy's growth."
The CofC's McKenzie — who is also honorary consul of Japan in Puerto Rico — said the agreement "is crucial to provide our partners with access to valuable financial resources that will allow them to drive their business growth and increase the competitiveness of their products and services. We are proud to partner with the EDB to foster entrepreneurship and the economic development of Puerto Rico."
The EDB said that one of the competitive advantages it offers to startups is its willingness to take risks.
"The EDB has been aggressively supporting and providing capital access to entrepreneurs who have requested funding above the usual borrowing margin to develop emerging concepts and ideas. This is done in collaboration with commercial banking and cooperatives through the Impulso a tu Negocio [Business Boost] program, which is funded by the federal Treasury," Alemañy said.
"This agreement is a significant step toward the growth and strengthening of the local economy, and we look forward to continuing to work together in the future to support the development of new businesses and the success of small and medium-sized entrepreneurs in Puerto Rico," Alemañy added.