Puerto Rico GDB, Treasury: S&P action is 'wake-up call'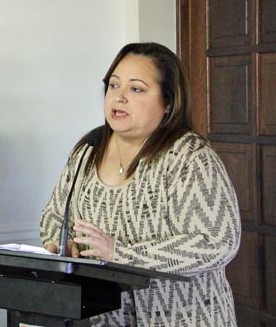 High-ranking government officials said Thursday that the decision by Standard & Poor's a day earlier to slash Puerto Rico's credit rating to near-junk status was "not a surprise" given the persisting grim economic scenario, but in its analysis the agency is giving the current administration "room to tackle the general fund deficit."
"S&P's decision is clearly not a positive action for the island, but it also wasn't a surprise given what it and other credit ratings agencies had been expressing in recent years," said Government Development Bank President Javier Ferrer during a roundtable discussion with business reporters, flanked by Treasury Secretary Melba Acosta.
"The fact that we didn't get downgraded to non-investment grade is a wake-up call. We can't rest on our laurels, we have to act quickly to take actions that allow us to address the fiscal situation and the general fund shortfall," said Ferrer.
Several weeks ago, Acosta and Ferrer headed to New York to meet with credit ratings agencies to lay out the island's fiscal situation and provide explanations for the projected $2.1 billion deficit — which is a far stretch from the $360 million shortfall the prior administration had estimated.
"We explained to them that there were a number of revenue projections that fell short and expenses that were higher than estimated," said Acosta.
The government is facing a $910 million budget gap this fiscal year, that when added to the $775 million in debt service financing, the $140 million in overspending, and the $332 million earmarked for the Puerto Rico Sales Tax Financing Corporation, known as COFINA, rings up to the whopping $2.1 billion projected burden.
"Those are preliminary figures that don't include the corrective measures we've announced," said Acosta, leading into the topic of the proposed overhaul of the government's underfunded retirement systems.
"We've presented a package of measures to fix the retirement systems, which should be approved soon and as close to what we presented as possible," Acosta said.
The package unveiled in late February calls for, among other things, raising the retirement age and increasing employee contributions, to tackle the $35.2 billion actuarial deficit that the Puerto Rico Commonwealth Retirement System is dragging. Without a fix, its assets will run out in Fiscal 2014, government officials have warned.
"S&P has expressly recognized the comprehensive plan that we have presented to address the issue of the retirement system," Ferrer said. "We cannot save the island's credit in 71 days, but the actions needed to correct our finances are in our hands: we need to reform the retirement system, we have to work with a balanced budget, we have to work on economic development and we have to get the approval for measures needed to reach those goals and execute them effectively."
On Thursday, S&P also downgraded the GDB's credit on par with the island's general obligations standing to 'BBB-'  from 'BBB,' with a negative outlook.
Fitch chimes in
Complicating Puerto Rico's economic scenario even further was the announcement later in the day by Fitch Ratings to place the 'BBB+' rating on the Puerto Rico Electric Power Authority's power revenue bonds on "rating watch negative," after reviewing the agency's operating and unaudited financial highlights for fiscal year 2012 and the continuing effects of the economic recession.
"The Authority's preliminary reporting suggests declining operating margins and cash flow, declining electricity usage, higher leverage, higher fuel costs and growing account receivables for the fiscal year, all of which are a concern," Fitch said.
"Based on the unaudited figures it does not appear that PREPA's Fitch-adjusted cash flow from operations was sufficient to cover operating and debt service costs in fiscal 2012," the agency further noted.
Fitch expects to resolve the "rating watch negative" in the next few months following meetings with the new management team, a review of PREPA's revised business strategy and release of audited fiscal 2012 financial statements.