Puerto Rico Hospital Supply joins NextGen, Dell to deliver e-records solutions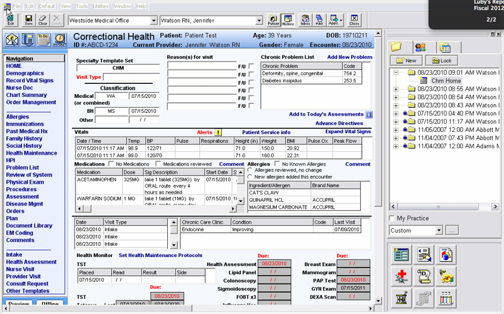 Healthcare information systems and connectivity solutions provider NextGen Healthcare Information Systems LLC and Dell announced Wednesday an agreement with Puerto Rico Hospital Supply Inc. to jointly market and deliver advanced technology solutions and services to medical practices of all sizes and physician networks throughout Florida, the Caribbean, and opportunity to expand into the Central and South American markets.
"Puerto Rico Hospital Supply Inc.'s presence in the Caribbean and Latin America, coupled with Dell's global market reach, allows NextGen Healthcare to introduce our solutions and expand our market reach into these new markets," said Scott Decker, president of NextGen Healthcare. "This opportunity presents a new revenue stream for our market-leading advanced technological solutions, allowing us to capture additional market share beyond the U.S."
"Puerto Rico Hospital Supply Inc., Dell and NextGen Healthcare are committed to delivering leading-edge solutions that will assist healthcare providers in the delivery of higher quality, better coordinated patient care," Decker added.
Under the agreement, Puerto Rico Hospital Supply Inc. will market, sell and support NextGen's Ambulatory EHR, Practice Management, and other solutions as components of Dell's Electronic Medical Records (EMR) platform for hospitals and physicians.
The partnership with Dell and NextGen Healthcare, Puerto Rico Hospital Supply Inc. believes will empower Puerto Rico and the many other markets served gain access to higher quality coordinated patient care," said company President Félix Santos.
"We look forward to offering our customers advanced, top-tier healthcare IT solutions," Santos said.
Using the latest cloud technology platform, Dell will provide hosting services for the NextGen applications to simplify access and data management for Puerto Rico Hospital Supply Inc. clients, the company said.
"Dell is committed to simplifying access and use of EMR for providers of all sizes, and we are pleased to work with NextGen to expand the availability of this solution," said James Coffin, Ph.D., vice president and general manager of Dell Healthcare and Life Sciences. "With secure healthcare cloud solutions, we can help providers adopt important technology upgrades — such as EMR systems — that otherwise would be resource and cost prohibitive."