Puerto Rico Housing Dept. hands over property titles to 28 families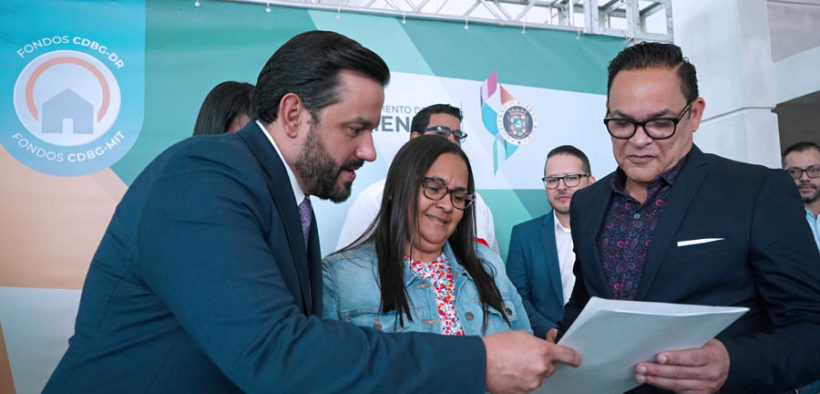 Puerto Rico Housing Secretary William Rodríguez turned in property titles to 28 families in the Humacao region, as well as 11 vouchers under the Materials Assistance Program for low-income families.
Similarly, Rodríguez signed an agreement with Humacao Mayor Julio Geigel to transfer unused units for renovation and development.
Rodríguez also said in addition to increasing the housing inventory, managing existing public housing projects "under the highest standards of compliance and efficiency," the agency is focused on getting numerous citizens to be able to own their own home and have their property title.
The delivery of the property titles to the families took place in a community ceremony at the Humacao Fine Arts Center. Of the 28 property titles delivered, seven correspond to plots in the town of Juncos, four in Yabucoa, five in Humacao, two in Maunabo, five in Ceiba, three in Las Piedras and two in Naguabo.
In addition, the Housing secretary gave more than $14,500 to 11 families in the towns of Las Piedras, Yabucoa and Humacao, so that they can make improvements to their homes as part of the Housing Department's Material Assistance Program.
"After making some adjustments and achieving savings through a healthy administration, we can reactivate this important program that allows families to make improvements to their homes, which are sometimes small, but that make a big difference so that their homes are safer and which otherwise they would not be able to afford," Rodríguez added.
Meanwhile, the agreement signed by the Housing secretary and the Humacao mayor authorizes the administration of the (PRHA-9-A) Padre Rivera public housing project, with the purpose of making improvements to the property and enabling it so that social services can be provided to the people of Humacao.
The project is composed of five structures with 18 apartments, currently unoccupied, which were used as housing for the elderly. With the agreement of understanding, which is valid for 25 years, the municipality of Humacao is responsible for its administration, maintenance and development of the property.
For his part, Geigel, said this "is the beginning that marks the development of an apartment project attached to the Padre Rivera public housing project that we will remodel for elderly people that live alone, that suffer from some condition or functional diversity so that they can live an independent life."
"I appreciate the Housing secretary's fast organization in the delivery of property titles to several Humacao families to make them owners of their respective residences, they have waited for years for this great moment," Geigel said.
"This memorandum of understanding that we signed today is the best example of what we can achieve through strategic planning, bringing to life a structure that is so necessary today," Rodríguez said.