Puerto Rico may be the location of a sky-high dining battle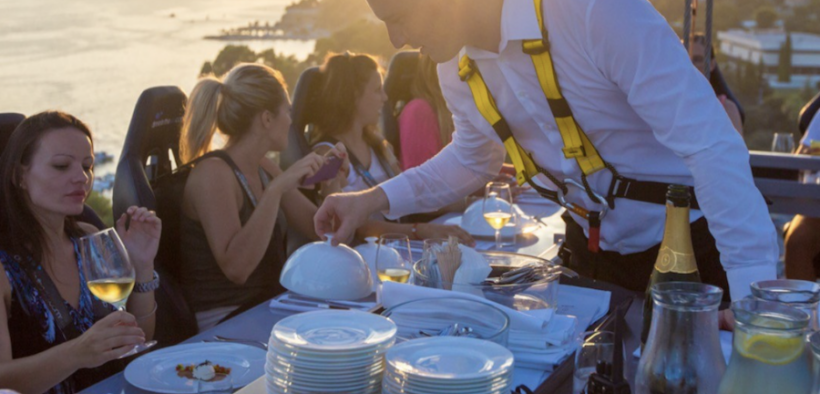 A new sky-high dining scene in Puerto Rico looks to heat up as two competing companies, FlyDining and Dinner in the Sky, seek to establish themselves in San Juan.
While FlyDining plans to open its 18th location in San Juan's Puerta de Tierra area with a $500,000 investment, Dinner in the Sky is in talks with local businesspeople to bring its aerial dining experience, already operating in more than 65 countries, to the island, according to Nation World News.
The competition is marred by controversy, as Dinner in the Sky's creator and owner, David Ghysels, accuses FlyDining of being an imitation of his concept and sued the company in India.
Although negotiations for FlyDining's exact location are ongoing, given that Nation World News reports the "restaurant could happen in other parts of the island such as Río Grande," is targeting an opening within the next four to six months. FlyDining guests will dine on a platform hoisted 160 feet above the ground by a crane, seating 24 people with a staff of four at the center, News is my Business previously reported.
Meanwhile, Dinner in the Sky, a Belgian company launched in 2006, uses cranes to lift its restaurants up to 150 feet, with platforms built in Belgium accommodating 22 people. The company also does business as Breakfast in the Sky, which has operated Punta Cana, Dominican Republic, since 2019, offering four experiences: SkyBrunch, Sky Bar, Lunch in the Sky and a private flight, costing from $150 to $1,180.
It also offers additional experiences such as weddings, concerts and movie projections at altitude.
Ghysels revealed that Dinner in the Sky partners in India filed a lawsuit against the owners of the FlyDining franchise in the country. Ghysels' main concern is that FlyDining's audience may mistakenly believe it is Dinner in the Sky.
In an email sent to News is my Business, Ghysels claimed that FlyDining is a copy of Dinner in the Sky, created in India a few years ago. He further stated that FlyDining's marketing is a "copy-paste" of Dinner in the Sky's marketing.
Ghysels noted that FlyDining is operating only in India and Bangladesh, "not worldwide and certainly not in Singapore, Egypt and Greece," as claimed.
He also alleges that a photo used on FlyDining Puerto Rico's Facebook page is actually from Dinner in the Sky in Lebanon.
Ghysels expressed concern over FlyDining's alleged lack of proper certifications, saying that his company had FlyDining remove its TÜV safety certification issued by Germany's Technical Inspection Association that "they were falsely claiming."