Puerto Rico's population has shrunk by 2%; Southwest most affected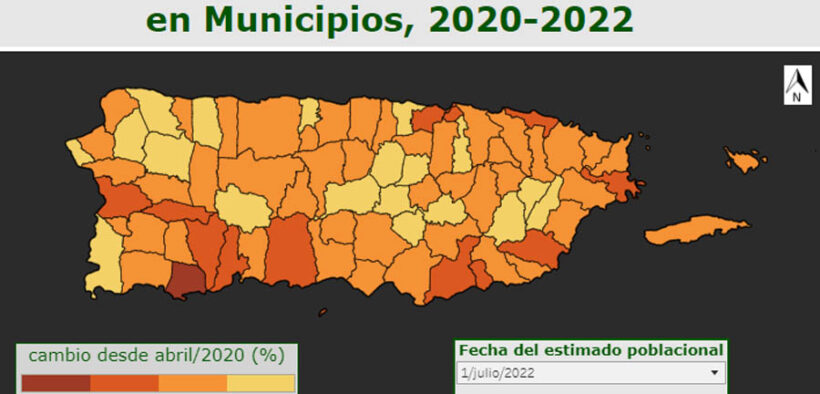 The U.S. Census Bureau released the most recent annual population estimates data for Puerto Rico's municipalities, which show a continued drop in the island's population, particularly in four towns on the island's southern and western regions and one municipality in the northeast.
Comparing the 2020 Decennial Census of April 1, 2020, to the most recent available figures dated July 1, 2022, it is evident that the five municipalities with the most significant population decline were Guánica (-7.2%), Loíza (-4.4%), Guayanilla (-4.0%), Ponce (-3.9%), and Maricao (-3.8%) between April 1, 2020, and July 1, 2022.
An interactive graphic that the agency released showed that changes in the population in the municipalities ranged from 0.8% to -7.2%, while a population drop was estimated in 99% of Puerto Rico's municipalities. The municipality of Rincón was the only one to reflect a slight increase, estimated at 0.8%. 
As the local representative for the U.S. Census Bureau's Network of Data and Census Information Centers (SDC-PR), the Puerto Rico Institute of Statistics reported several findings based on the new publication of 2022 population estimates.
Some 15 municipalities reflected an estimated reduction of more than 3% in the comparative period. The total population across all of Puerto Rico is estimated to have shrunk by 2%, translating to about 64,000 fewer residents than in April 2020.
The five municipalities with the lowest percentages of population decline were Barranquitas (-0.1%), Naranjito (-0.1%), Aibonito (-0.3%), Isabela (-0.4%) and Moca (-0.5%).
The first three municipalities are located in the central region of the island, (Barranquitas, Naranjito and Aibonito) and the last two (Isabela and Moca) are located in the western region of Puerto Rico.
"The pattern of population estimates continues to show a downward tendency, a feature that at a [local] Puerto Rico level, we have already [been] approaching for nearly two decades (since 2005) of being an increasingly small resident population but with a different demographic composition," said the Statistics Institute's senior manager of statistical projects, Alberto Velázquez-Estrada.
Tables with annual population estimates for Puerto Rico and its municipalities can be accessed here, as well as in the U.S. Census Bureau's data dissemination tool.
As the leading entity of the State Data Center of Puerto Rico, the Statistics Institute manages the SDC website, which contains the main statistical reports and publications of the U.S. Census Bureau about Puerto Rico, specifically those that are requested the most, such as annual population estimates, the Puerto Rico Community Survey and official statistics on the decennial population and housing censuses of Puerto Rico.