Raincoat gets Verizon award, shows up for Hurricane Otis victims in Mexico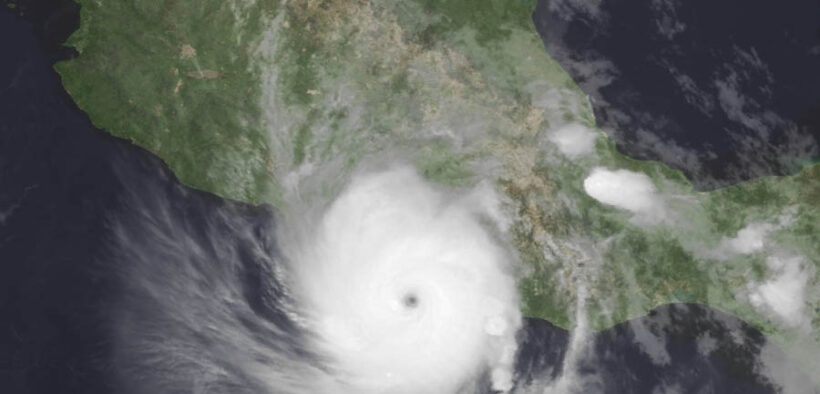 Local insurance startup Raincoat recently won Verizon's Climate Resilience Prize for its use of advanced technology to create and deploy innovative climate resilience solutions – technology it is currently using in Mexico to assist Hurricane Otis victims.
Raincoat and three other companies were selected by Verizon for offering tech-driven, scalable and reliable solutions that can advance climate resilience and equity in under-resourced communities. The award consists of $500,000, or $125,000 per company, along with ongoing business support to help scale their solutions and reach more in-need communities.
"This was an opportunity for us to get on the stage when it comes to the U.S. market, because we've been very active in the Latin American market, and the reality is that a lot of the needs that come within the climate sector are happening everywhere," Jonathan González, Raincoat's co-founder and CEO, told News is my Business.
For Raincoat, it was a favorable program because in addition to financial support, it offered the opportunity to work with outstanding organizations, he said. "That's the main reason why we applied. We were really interested in working with Verizon on solutions that have to do with disaster aid relief, and with some of the other organizations involved with the program."
Helping in the wake of Hurricane Otis
The company is operating actively in Mexico, and currently serving customers affected by Hurricane Otis.
"We activated on Monday morning, when the impact started, and have been executing policies and payments there," González said.
Hurricane Otis explosively intensified on Tuesday, going from tropical storm status to a Category 5 storm in less than 24 hours before making landfall on Wednesday. During that period, its maximum sustained winds increased by 110 mph.
"This, unfortunately, is not a unique experience. We're seeing this across the board, across events, whether it's storms, wildfires or earthquakes. This is the unfortunate trend and the reason why we do what we do," González said.
To continue doing what it does, Raincoat raised $6.5 million this year from equity investors, up from $5.4 million last year. Since before its launching in 2021, which was delayed by the COVID-19 pandemic, Raincoat has been a participant in several startup initiatives, including local programs available through Bravo Family Foundation, Grupo Guayacán and Parallel 18.
"I've been part of the local startup community for a very long time," González said. "Puerto Rico has yet to produce its first unicorn, and I and the other founders are obsessed with trying to make Puerto Rico become a startup hub. That's why I'm here in Puerto Rico. That's why I want to build the startup here."
Focus on global growth
In addition to Puerto Rico and Mexico, Raincoat operates in Jamaica and Colombia, with plans to expand its operations to the Dominican Republic, Barbados, Brazil, the U.S mainland, and countries in Europe and southern Africa.
"Our focus is to be a global company and be able to push these solutions everywhere," González said. "We're growing rapidly."
The greatest hurdles in its expansion include industry inertia, assumptions and biases regarding how insurance should work, skepticism toward parametric insurance, the need for educating businesses and consumers in each market, and political and regulatory aspects. The U.S. presents a unique set of challenges, González said, noting that the regulatory landscape there is much tougher than in other countries.
"What makes the U.S. so particular is that regulations are managed on a state-by-state basis as opposed to a country-wide basis," he explained.
"The U.S. also hasn't been the friendliest environment for parametric products, not because of any mandate or restriction against it, but because there's very little regulatory clarity for it. One of the reasons for this is that the U.S. government has a lot of safety nets, like [the Federal Emergency Management Agency (FEMA)]. Because of that, it doesn't have to innovate as rapidly as other countries have to when it comes to new solutions, because it's sort of assumed that this is going to be solved by the government," González said.
Raincoat's coverage pays instantly
Raincoat specializes in next-gen parametric insurance, utilizing predictive data and to provide insurance for those affected by severe climate events.
The company was born in the aftermath of Hurricane María, which devastated Puerto Rico in 2017, causing death, injury and more than $90 billion in damages. The storm left hundreds of thousands of homes and businesses without basic services for months, severely affecting the local economy.
As a result of this catastrophe and the ensuing insurance chaos, Raincoat developed an insurance product for home, business and potential income loss that pays within days of a natural disaster without having to file a claim. Instead of relying on an adjustment procedure that can take years and result in zero payout, Raincoat employs advanced weather modeling for immediate payouts based on estimated losses.
Natural disaster insurance is typically included in standard homeowners and business interruption policies, but these often focus on property damage, take years to process, involve numerous exclusions and frequently don't cover what policyholders need most. Parametric insurance covers a policyholder against the occurrence of a specific event, instead of the magnitude of losses in a traditional indemnity policy.
Raincoat customers register a policy online and provide a physical address. The company then monitors that location using real-time environmental data and sophisticated models that interpret this complex data. Raincoat issues a payout within days of an event.
While other parametric insurance companies are emerging, Raincoat's competitive edge is and will continue to be its people, González said.
"I think we have a world-class team, really world-class," he added. "Our chief insurance officer … our scientists and the categories that they're in, their Ph.D.s, very specific, unique attributes. We also have partners that we're working with that trust us and support us," he said. "Our competitors would have to replicate our team and the trajectory we've had."
More on the Verizon prize
Launched in 2021, Verizon's Climate Resilience Prize is an initiative enacted to scale proven, in-market solutions that are focused on mitigating the disproportionate impacts of climate change on vulnerable communities. This year, the company awarded its Climate Resilience Prize to Raincoat, Sesame Solar, 10Power, and Perimeter.
"Through a novel insurance product, San Juan-based Raincoat aims to democratize access to financial resilience in the face of natural disasters," Verizon said in a statement. "Raincoat's mission is to protect every person on the planet from the financial disruption of natural disasters."
Sesame Solar replaces fossil fuel-powered generators with renewable, mobile energy solutions that are durable, easy-to-use and flexible for a variety of use cases, Verizon reported. 10Power's renewable energy projects create climate resilience through on-site energy generation and storage, while Perimeter facilitates information sharing and collaboration, making real-time evacuation management software accessible to first responders and the public, Verizon said.