Retail Trade Association, DACO sign MOU for Black Friday, Christmas sales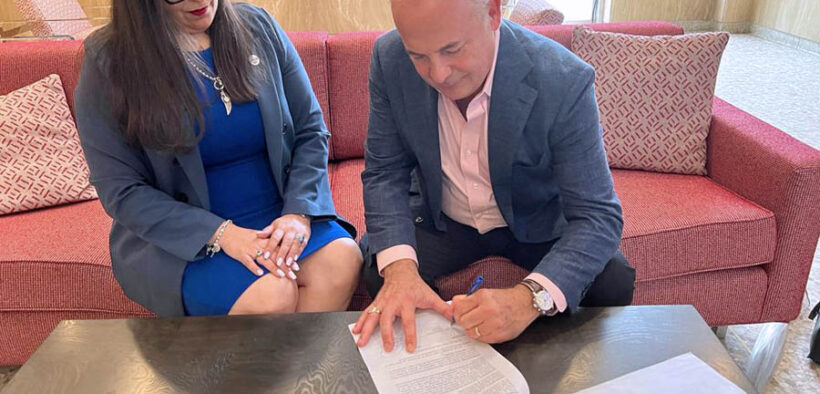 Acting Puerto Rico Consumer Affairs (DACO, in Spanish) Secretary Lisoannette González-Ruiz and Retail Trade Association (ACDET, in Spanish) President José González-Suárez have signed a memorandum of understanding ahead of the Black Friday event and holiday sales, which will begin earlier this year.
As expected, the long-awaited Black Friday sales will continue a dynamic very similar to that of recent years, special sales that begin as early as Nov. 10 and will extend throughout the holiday season, with promotions available in both physical stores and online.
"Retail has gone through great challenges to recover from the ravages of COVID-19, global product shortages and inflation; however, we haven't lost the spirit of celebrating the Christmas season and the optimism for good sales. We want consumers to also enjoy it and get good offers for their traditional purchases as they get ready for Christmas," said González-Suárez, who is the owner of Pepe Ganga stores.
González-Suárez noted the evolution of Black Friday sales, with consumers favoring sales throughout the week because it provides more flexibility, special online and in-store deals, and extended hours in November and December.
"We're pleased that we have signed the collaboration agreement with DACO again, because thanks to this effort, in which we have been consistent for more than nine years, we can offer a safe and orderly experience to our consumers," González-Suárez said.
González-Ruiz said she and her team have implemented a comprehensive meeting plan with the island's major retailers before Early Bird Day sales and will visit stores to ensure consumer rights, safety and support businesses so that service expectations are met.
"It's extremely important for us to reach agreements like this since they are aimed at protecting the consumer. This is one of those agreements that put the consumer first and foster the trust that citizens have with DACO and the retailers," she said.
"Our goal is for citizens to enjoy this Christmas season and the traditional special sales. This administration's public policy is to promote the island's economic activity while ensuring compliance with laws and regulations, so that the rights of consumers are not violated. In this agreement, we expand the alternatives that consumers will have in case the merchandise runs out," González-Ruiz concluded.
Key points of the MOU for consumers:
The agreement will be in effect from Nov. 8 to Jan. 6.
Retailers must provide substitute items or rain checks if advertised items are unavailable during the holiday sales.
To prevent crowding, online ads are exempt from offering Minimum Guaranteed Time, vouchers or substitutes.
DACO permits offering an equivalent discount during the Minimum Guaranteed Time or selling the advertised item with free home delivery if out of stock.
Store flyers must adhere to retail practice regulations, indicating regular prices and exemption from rain checks or substitutes.
Flyers must clearly state any limits on the quantity of items per customer.