Salvation Army hosts Back to School event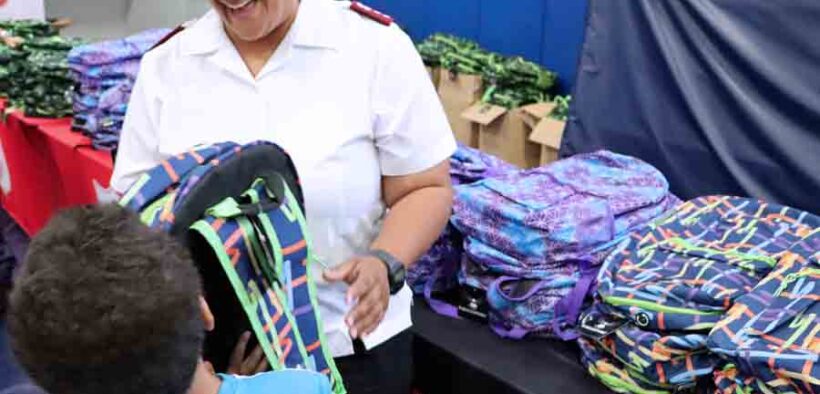 As the new school year is about to begin this month, the Salvation Army celebrated its traditional Back to School activity in Puerto Rico by distributing essential school supplies to more than 350 children and young people from the municipalities of Cataño, San Juan, Guaynabo, and Trujillo Alto. The children received some of the essential school materials to help them prepare for the start of classes.
The goal of the event was to provide these children with the necessary school materials to ensure they return to school well-prepared.
"For 61 years, the Salvation Army in Puerto Rico has been committed to serving the communities," said Maj. Juan Mercado, Salvation Army division commander for Puerto Rico and the U.S. Virgin Islands. "However, there is a population that needs to be addressed and heard more than ever, and that is the children and youth of our country. The Back to School event not only served to distribute school supplies but also to share and listen to the stories these young people had to tell."
The event took place at The Salvation Army's court, located at the central offices of the organization. Children and young people between the ages of 3 and 16 arrived in the morning eager to receive new school supplies.
In addition to the school supply distribution, there was also a barber and styling area led by Barbería Calle Loíza and its owner Roberto Rolón, where the children and young people could get haircuts and new hairstyles.
During the event, Salvation Army mascot Capt. Esperanza (Capt. Hope) and other employees hand-painted the children's faces, and Holsum bread representatives, along with the company's mascot, Bimbo, distributed snacks for the attendees.
The school materials distributed during the event included different colored backpacks for boys and girls, notebooks, pencils, rulers, pencil sharpeners, crayons, erasers and pencil cases.
The Back to School event has been active over the past weeks with the help of volunteers from the insurance company MAPFRE, where school supplies were also distributed to young people from different communities from Ponce, Caguas and Arecibo. This was part of the Salvation Army's Summer Camp closing activity in those municipalities.
"Thanks to the group of volunteers from MCS, MAPFRE and the Salvation Army officers … for coming together and helping these young people go back to school equipped and full of energy to start a new school year," Mercado added.
The Salvation Army serves the Puerto Rican community through 11 centers located in the municipalities of Caguas, Bayamón, San Juan, Mayagüez, Ponce, Fajardo, Arecibo, Humacao, Loíza, Peñuelas and Guayama. These centers provide assistance tailored to the needs of socially disadvantaged families, the elderly, children, homeless individuals, and offer immediate assistance in emergencies and disasters.