Santander Puerto Rico unveils mobile banking services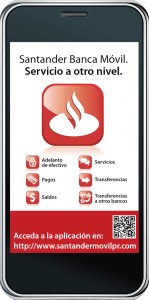 Banco Santander Puerto Rico announced Monday the availability of its new mobile banking service to offer a host of features to smartphones customers with Internet access.
Clients signed up to Santander's online banking service will be able to use the new mobile version to complete electronic transfers between banks in Puerto Rico and the U.S. mainland, process cash advances, transfer funds, view account balances and transactions, make payments and credit card advances, issue payments through the bill payment service and access other services such as payment cancellations, view alerts, change email address and password.
"These services are part of the Santander Mobile Banking network, a next-level service that we're providing to our clients and that keeps us at the forefront of banking transactions in Puerto Rico," said Aníbal González Caamano, director of retail banking for Banco Santander.
To access the mobile service, Santander customers must visit www.santandermovilpr.com.