Ponce Health Sciences Univ. invests $1.4M in facility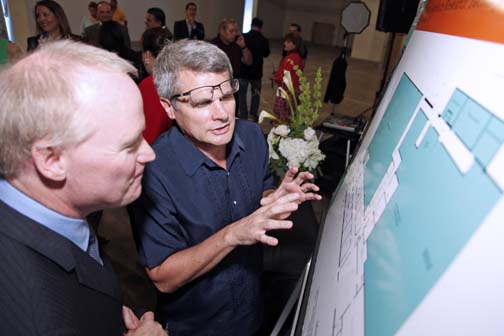 The Ponce Health Sciences University, a fully accredited U.S. medical and health sciences university provides the highest quality graduate education programs available in medicine, clinical psychology, biomedical sciences, and public health, announced Tuesday the groundbreaking expansion of a 6,000 sq. ft. state-of-the art neuroscience research facility.
The $1.4 million neuroscience research facility will house the research teams of Devin Mueller, an R01 investigator recently recruited to Puerto Rico from the University of Wisconsin-Milwaukee, and James Porter, a senior investigator at PHSU.
Both have been awarded grants by the National Institutes of Health, which will be the basis of their work at Ponce Research Institute.
"We are working to attract the best researchers, who share our commitment to solving the most pressing health challenges for the Hispanic community," said Kenira Thompson, president of the Ponce Research Institute.
"By expanding our neuroscience research team and facilities, we are not only contributing to an important body of research that will serve Hispanics across the U.S., we are also bringing an influx of investment and job opportunities to our community," she said.
The expansion of the neuroscience laboratories will have a direct economic impact on the city of Ponce, with the generation of at least 15-20 additional jobs, the institution's officials said. The expansion is possible through collaborative ties with the Puerto Rico Industrial Development Company, as well as the Puerto Rico Science, Technology, and Research Trust, which has been instrumental in providing grant support for the recruitment of top caliber investigators to the facility, officials said.
"The addition of well equipped laboratory space will be dedicated to untangling the pathways to addiction and fear memories, while advancing humanity's understanding of the brain; it will enable our students and researchers to compete in the international arena, with the added benefit of lifting our institution to the next level," said PHSU President David Lenihan.
Meanwhile, José Iguina, director of PRIDCO's life sciences division, said "Puerto Rico is uniquely positioned to help address global health challenges, and we're committed to providing the infrastructure necessary to advance new discoveries in the field, while also improving health and education opportunities here in Puerto Rico."
The public-private partnership will allow PHSU to advance important medical research with implications across the U.S., while also investing in our local community, Lenihan said.