TOTE Maritime P.R. completing equipment upgrades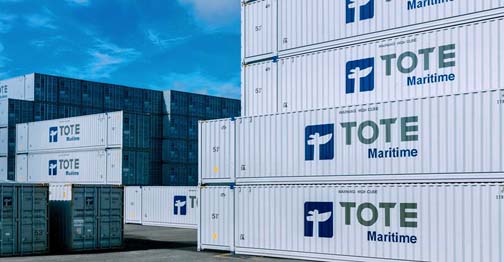 TOTE Maritime Puerto Rico has begun implementation of major equipment upgrades aimed at keeping their fleet the youngest in the Puerto Rican trade market, the shipping company announced Tuesday.
In a continuation of ongoing equipment upgrades that began in 2014, TOTE Maritime began this summer receiving 285 new 40-foot refrigerated containers, or reefers, as well as 150 53-foot chassis and 30 new 31-foot tank chassis for their terminals in San Juan. Stateside, TOTE Maritime this summer purchased 100 new generators; 50 of them clip-on generators and 50 of them underslung chassis mounted generators.
In August, TOTE Maritime is expecting to receive an additional 300 new 53-foot tri-modal containers, which is the predominant size for the company's new class of vessels. The addition brings the total tri-modal container fleet to more than 2,000, all less than a year old.
Ongoing investments like these are an important part of helping TOTE Maritime maintain the youngest fleet in the Puerto Rican trade market, said Jim Wagstaff, vice president for operations at TOTE Maritime.
"TOTE Maritime is the predominant refrigerated cargo carrier in the Puerto Rican market," Wagstaff said. "It is crucial that we continue to invest in the latest equipment to exceed our customers' expectations, and to also maintain our dedicated and committed service."