PR/DR ferry to resume service June 1, following repairs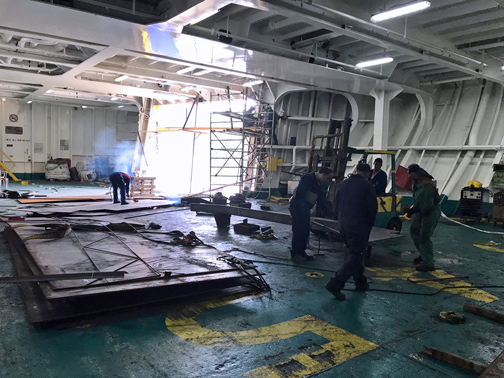 Ferries del Caribe, operators of the maritime service between Puerto Rico and the Dominican Republic, announced the re-start of service June 1, two weeks after its cruise ship was involved in an accident at the neighboring island's pier.
The ropes anchoring the "Kydon" broke and allowed the boat to slip about 50 feet, dragging a ramp and impacting several cargo containers waiting at the dock to be transported to Puerto Rico.
The company invested $250,000 to repair the ship to "re-start the service safely and in optimal mechanical conditions," the company said. The new vessel — which was completely renovated in 2015 and is of Japanese construction — made its maiden voyage between Puerto Rico and the Dominican Republic on May 3.
The affected ramp — one out of three available on the ship — will remain shut until a new one can be installed. That repair will entail a $1 million investment, company officials said.
Ferries del Caribe President Néstor González-García noted that despite the service interuption, tourists and business customers have continued making reservations.
"The trust the public has shown us fills us with great satisfaction, as they have continued to make reservations for trips in June, July and August," he said,
"We have received a marked increase in the number of reservations by new customers who want to experience packages with transportation and accommodations, including hotels in Santo Domingo, Boca Chica, Juan Dolio, La Romana, Bayahibe, Bavaro, Punta Cana, Santiago and Puerto Plata," he said.
Travel service resumes Monday, Wednesday and Friday sailing from Puerto Rico and Tuesdays, Thursdays and Sundays from the Dominican Republic at 7 p.m. and docking at each destination at 8 a.m.