P.R. to showcase tax incentives in June 29 NY conference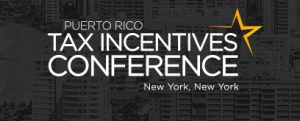 A trio of Puerto Rico-based, private-sector companies will be hosting the "Puerto Rico Tax Incentive Conference" in New York on June 29, to showcase the tax incentives and competitive advantages that make the island "an ideal investment destination."
After several summits held on the island during the past three years, this new event moves to the Park Hyatt in New York. Hosting U.S. investors and entrepreneurs, the event will bring experts to explain first-hand the wide variety of competitive advantages Puerto Rico offers as an investment opportunity.
The conference, a private event hosted by BDO, PMA Law, and PRISA Group, will cover detailed insights on the investment incentives the island offers, "which are unmatched in any state of the nation, as well as other incentives in specific areas, including insurance, film, and manufacturing" organizers said in a statement issued Tuesday.
The event will focus on the benefits that Acts 20 and 22 provide, including a 4 percent corporate incentive for businesses in Puerto Rico exporting services and 100 percent tax exemption on capital gains from eligible services, respectively. To date, 1,600 Act 20/22 decrees have been awarded.
Gabriel Hernández, CEO of BDO Consulting and Edgar Ríos, Tax Partner at PMA Law — both local experts in tax structures and law — will share information on Acts 20/22, tax incentives for individuals and exports services, and new private equity laws, among others. Joining them will be Friedel Stubbe, CEO of PRISA Group, who will discuss the experiences of living in Puerto Rico and the competitive advantages that may benefit entrepreneurs.
For more information and to register, visit prtaxconference.com.