Start of recession sparked significant migration from P.R.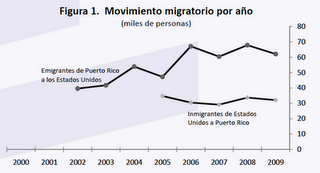 P.R.'s migratory movement per year. (Credit: PRSI)
When Puerto Rico's current recession started in 2006, it set off one of the most significant migrations of island residents in recent history, with some 37,000 people leaving in search for a better life that year. In the last five years that number has blown up to more than 300,000, the Migrant Profile released by the Puerto Rico Statistics Institute showed on Monday.
"That year [2006], 37,000 people, or approximately 1 percent of Puerto Rico's population, moved to the U.S. mainland," according to the report based on data included in the latest U.S. Census Bureau's Puerto Rico Community survey.
"We lived a decade during which we reported fewer students, fewer private schools, fewer homebuyers, fewer tax returns filed, fewer voters, fewer revenue, fewer expenditures, in short, a smaller economy. Migration is a key factor, if not the most important factor, in explaining these phenomena," said PRSI Executive Director Mario Marazzi-Santiago.
Other findings included in the Migrant Profile are:
Although the Puerto Rico Community Survey began in 2005, the data that is available leads to the conclusion that more than 300,000 Puerto Rico residents moved to the U.S. mainland between 2005 and 2009, and a little over 160,000 people moved back to the island. That said, Puerto Rico lost 144,000 residents, or 4 percent of its population in the last five years.
With the exception of 2009, migration contributed to speeding up the population's aging process in the last five years, the survey showed. The average age of people who left the island was 30-years-old.
Migrants had a higher education level than those who came to the island.
"Given this population movement, it is important for citizens, businesses and the government to have information that enables them to learn about the migration of the inhabitants of Puerto Rico," the PRSI said. "These movements impact on the way various public policy initiatives are discussed, social research, academic research, and demographic research in Puerto Rico."
Puerto Rico citizens who have taken flight in the last five years have headed mostly to Florida, with Pennsylvania, New York and New Jersey as the next three jurisdictions of choice.