Foodies invited to 4th edition of Saborea Puerto Rico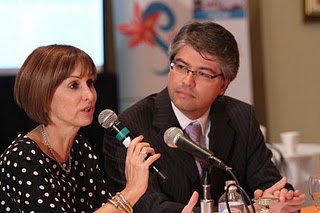 PRHTA President Clarissa Jiménez and Tourism Co. Executive
Director Mario González
The fourth edition of Saborea Puerto Rico "A Culinary Extravaganza" will once again return to the Escambrón Beach in San Juan, from April 1-3, when a full lineup of local and international chefs will showcase their talents.
Some 60 of the island's finest restaurants, a mix of rums, wine, beer and distilled spirits, and more than 50 international and local culinary personalities are on this year's agenda, organizers said Tuesday.
"We are truly excited with this edition of the festival, which promises to be more refreshing and innovative than prior celebrations. We will keep your taste buds tempted all weekend long," said Puerto Rico Hotel and Tourism Association President Clarisa Jiménez.
The event is expected to pump $1.8 million into the economy, including reservations of some 2,500 room nights at area hotels over the weekend, organizers said.
Local celebrity Chefs Roberto Treviño, Mario Pagán, Giovanna Huyke, Marisoll Hernández, Ángel Santiago, Efraín Cruz, Fernando Parrilla, Mario Ferro, Germania Díaz, Juan Peña, and Pablo Budet have already confirmed their participation and will showcase many of the dishes that have positioned Puerto Rico as a world-class gastronomic destination.
"During the event, our local chefs will whip up creative delights that have positioned the island as a favorite dining destination over the years. Cooking demonstrations allow our local chefs to share and exchange techniques and ideas with chefs from around the world who will attend as guests," said Barbara Mari-Pennock, founder and director of Saborea Puerto Rico.
Furthermore, making their mark in this year's Saborea Puerto Rico are a number of Food Network personalities including famed Latino Iron Chef José Garcés; this season's Iron Chef winner, Marc Forgione; Ted Allen, host of Chopped; Keegan Gerhard, of Food Network Challenge; Anne Burrell, of Worst Cooks in America; and Robert Irvine, of Restaurant Impossible.
The Cooking Channel's Latina chef Daisy Martínez will also be part of the lineup of cooking experts, along with Govind Armstrong, from Los Angeles; Douglas Rodríguez and Harry Pagancoss, from Miami; Denisse Oller, Alex García and Máximo Tejada, from New York; and Francisco Castro and Kalych Padró, from Panama.
Each day, guests visiting the Saborea Puerto Rico Village will enjoy samples from Puerto Rico's restaurants. Nine daily demo kitchens will provide visitors with the opportunity to learn the techniques and ingredients used to prepare recipes the way the experts do. A one-day pass allows "foodies" to access all areas for tastings and demonstrations.
The yearly event has managed to put Puerto Rico on the global culinary map, something Puerto Rico Tourism Company Executive Director Mario González Lafuente said is a goal.
"The Tourism Company has the goal of captivating food enthusiasts, reinforcing Puerto Rico as a well-rounded gastronomic destination with diverse offerings to satisfy every type of visitor," he said during the news conference.