1st group of students graduate from Janssen job program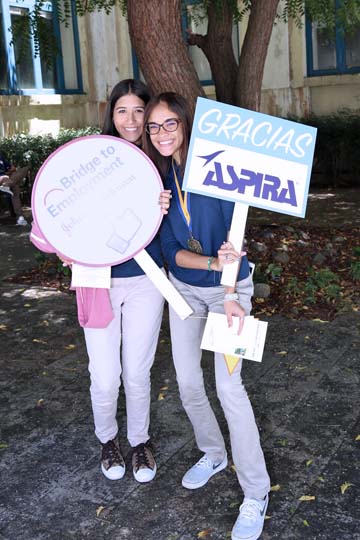 A group of 37 students from public high schools in Gurabo and Manatí completed the first "Bridge to Employment" Program in Puerto Rico sponsored by Janssen LLC, as part of its Early Talent Strategy to engage millennials with the life sciences manufacturing sector, the company announced Wednesday.
"We are thrilled the students completed the three-year program, so many of our employees opted to volunteer as mentors," said Marinelba Rosado, general manager of Janssen, LLC in Gurabo.
"We feel we have made a difference in the lives of these students. The vast majority of them now want to pursue college studies," said Mario González, general manager of Janssen, LLC in Manatí.
The creator of the "Bridge to Employment" program for Johnson & Johnson was present for the 'graduation" ceremony, where he awarded scholarships to 15 students.
"This is part of our Credo commitment to improve the wellbeing of the communities in which we work and live," said Michael Bzdak, executive director of Global Community Impact of Johnson & Johnson.
In 2014, Janssen LLC began the program with 54 sophomores from the Petra Corretjer public high school in Manatí and the Conchita Cuevas public high school in Gurabo. Thirty-seven completed the three-year program that includes after school programs, mentoring, and workshops to interest students in careers in STEM (Science, Technology, Engineering and Math) and all will graduate from high school this May. The program also focuses on developing self-esteem, leadership and collaboration among the selected students.
There are two other BTE programs underway, one in Las Piedras and the other in San Lorenzo. "Bridge to Employment" is a worldwide Johnson & Johnson program created in 1992 to help young people build solid futures by introducing them to a broad array of careers in science, technology and healthcare.