SuperGreen Solutions looking to expand into Puerto Rico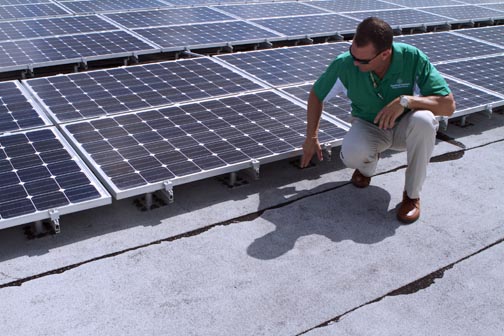 By Doreen Hemlock
Special to News is my Business
A Florida-based franchise chain specialized in energy-efficient goods and services is looking to expand to Puerto Rico.
SuperGreen Solutions now has 18 stores open or opening in Florida and eight other U.S. states. It also has franchises set to debut by mid-year in Canada, South Africa and in the greater Caribbean region in Panama and the Bahamas, said company founder and chief executive Sean Cochrane.
The stores serve commercial and residential customers with products from LED lights to solar panels, insulation and battery-units that store electricity. It also offers energy audits and other services.
Cochrane said he traveled to Puerto Rico in December and found excellent opportunities for the chain, based on the high cost of energy. Electricity on the island costs more than triple the price in Florida.
Yet he also found concerns over the look of solar panels and other energy devices on buildings.
"People in Puerto Rico understand energy efficiency, but some don't want to damage historic views with solar," Cochrane said.
He recommends customers do energy audits first, so they can find ways to cut their energy use, possibly through sealing leaks, placing films on windows or energy-saving water heaters.
"Reduce before you produce," he said. "So maybe you can install a 4-kilowatt solar panel instead of a 10-kilowatt one."
The move comes as solar and other forms of renewable energy take off in Puerto Rico, with help from incentives and government goals to increase renewables to 12 percent of power production in 2015.
California-based Planet Solar recently opened on the island in a venture with the island's solar contractor, New Energy Consultants of Puerto Rico, to tap the growing market.
SuperGreen Solutions sells its franchises for about $49,000 and offers turnkey stores for about $150,000 in the United States. It also charges a royalty of 3-5 percent, depending on sales volume, he said.
Franchise owners must earn accreditation from the U.S. Green Building Council's Leadership in Energy and Environmental Design (LEED) program and take other courses in energy management.
The business grew out of Cochrane's personal frustrations trying to find energy-efficient products to remodel his home in his native Australia in the 1990s. He opened his own store to offer the products, and that shop grew into an Australian chain, All Safe Energy Products, now comprising eight outlets.
At a franchise show in Sydney in 2009 to promote that chain, Cochrane met an executive with United Franchise Group of Florida, which represents Signarama, EmbroidMe and other franchises.
That encounter led him to visit the company's headquarters and a decision to move to the United States to launch the chain there with United Franchise Group, based in West Palm Beach. Cochrane opened his first U.S. outlet under the SuperGreen Solutions name two years ago.
Cochrane said he aims to open 70 stores this year in the United States and worldwide.