$60M aluminum can manufacturing plant opens in Cidra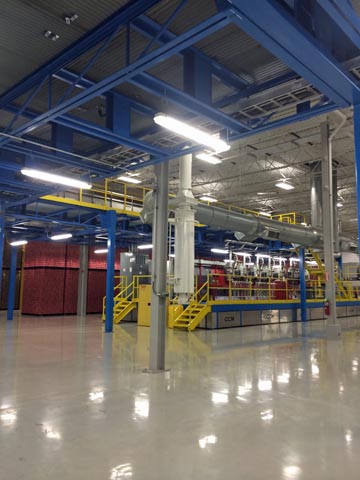 Caribbean Can Manufacturing Company, LLC, a new $60 million one-of-a-kind aluminum can manufacturing plant based in Cidra was officially inaugurated today, marking the the birth of a new local industry, company officials said.
The 165,000 square-foot operation generates 75 direct and 125 indirect jobs to supply the demand of aluminum cans for various brands in the local market, as well as for export markets.
The plant is the result of a joint investment between Cervecera de Puerto Rico, a Puerto Rican firm that put up 45 percent of the funding, CC1 Limited Partnership, , local packer and distributor for Coca Cola and its products, which put up another 45 percent, and Bepensa Bebidas, S.A. of C.V., which put up the remaining 10 percent.
"Cervecera de Puerto Rico has contributed and supported the economy of Puerto Rico since its establishment more than 75 years ago. This investment, which creates an industry and generates new direct and indirect jobs, demonstrates our firm conviction of the enormous potential of the Puerto Rican economy," said Camalia Valdés, president of Cervecera de Puerto Rico, which produces Malta India, Medalla Light, Magna Special Craft and Silver Key Light.
Caribbean Can Manufacturing Company produces cans for the following consumer products: Medalla Light, Silver Key Light, Malta India, Malta India Light, Coca Cola, Diet Coke, Coke Zero, Sprite, Sprite Zero, Hawaiian Punch, Old Colony, Fanta, Coco Rico, Scheweppes, Canada Dry, OK Cola, Sunny Delight, Dr. Pepper, Orange Crush, Nestea, Minute Maid, and the products of Bepensa Bebidas, S.A. of C.V. for the Dominican Republic market.
"Caribbean Can Manufacturing gives us the flexibility and the opportunity to innovate in the aluminum packaging that the market needs. We can adjust to the demand and the requirements of the clients we serve in each business. We are opening the door to a new industry and we are doing so with the most advanced technology available," said Alberto J. Rivera, senior vice president and CFO of CC1.
The technology used for the manufacturing of the aluminum cans is one of the most sophisticated in the world, Caribbean Can said. The plant has a production capacity of 1,800 cans per minute, or 650 million cans a year, at the beginning of the operation. The expansion capacity can reach a production level of up to 2,400 cans per minute, or, 1 billion cans a year.
Initially, CCMC, in addition to supplying the local demand for various products, will also export cans to the Dominican Republic, Trinidad, and Jamaica. Additionally, the company is contemplating exporting to other markets in Latin America and the United States in the near future.