'Taste of Rum' to mark more than 450 years of tradition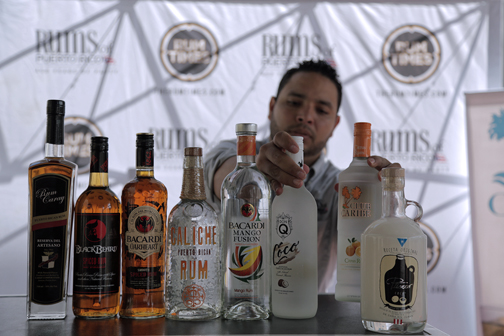 The sixth annual edition of the "Taste of Rum" is returning Feb. 28 to celebrate the industry's 450-year history in Puerto Rico.
The event offers participants a chance to taste a variety of local rums produced by an industry that generates about 700 direct jobs and 4,500 indirect jobs on the island.
Promoting and marketing rum manufactured in Puerto Rico is important from the economic development standpoint, as increases in sales volumes in the U.S. mainland translate into greater reimbursement sent back through the federal excise tax on rum, which represent some $300 million to 350 million a year, government officials said Thursday.
Puerto Rico exported more than 20 million gallons of rum to U.S. mainland markets in fiscal 2014, government data shows.
More than 15 rum brands and products will be served at the tasting event to take place at the Paseo de la Princesa in Old San Juan. The lineup of spirits includes Bacardi, Don Q, Ron Barrilito, Pitorro, Ron Caray, PitoRico, Club Caribe and Ron Trigo. Attendees will also be offered a tasting menu of the best and most popular restaurants on the island, namely, La Cueva del Mar, Asere, Mango's, Casa Lola, Rosa Mexicano, Il Mulino, Aviones, Buenos Ayres, and Paseo Playero, among others.
Event organizer Federico Hernández said during a news conference Thursday that the "Taste of Rum" fits right in with the promotional efforts conducted by Rums of Puerto Rico, a program under the auspices of the Puerto Rico Industrial Development Company.
"Particularly among stateside visitors who come to the island to participate in the biggest rum festival in the Caribbean," he said. "It also lets Puerto Rico to be seen as a worldwide favorite, featuring the widest variety of island rums."
"The Rums of Puerto Rico program is proud to be the official host of this event that brings together all our brands," said PRIDCO Executive Director Antonio Medina-Comas. "This participation is part of the new efforts we are conducting to promote and increase the sale of rum produced in Puerto Rico."
This year's "Taste of Rum" event is expected to generate 225 hotel room nights, which translates into an economic injection of $165,000, Puerto Rico Tourism Company Executive Director Ingrid Rivera-Rocafort said.
That represents a 20 percent increase from last year's numbers.
"At the Tourism Company, we're excited to once again open the doors to 'Taste of Rum,' which welcomes visitors who visit and represents our culture during the tourism peak season," she said.
More than 2,000 people have gathered for each edition and more than 800 people, mostly from the U.S. mainland visiting Puerto Rico in time for the event, have participated, she said.