Rock Solid Technologies awards 4 scholarships to UPR students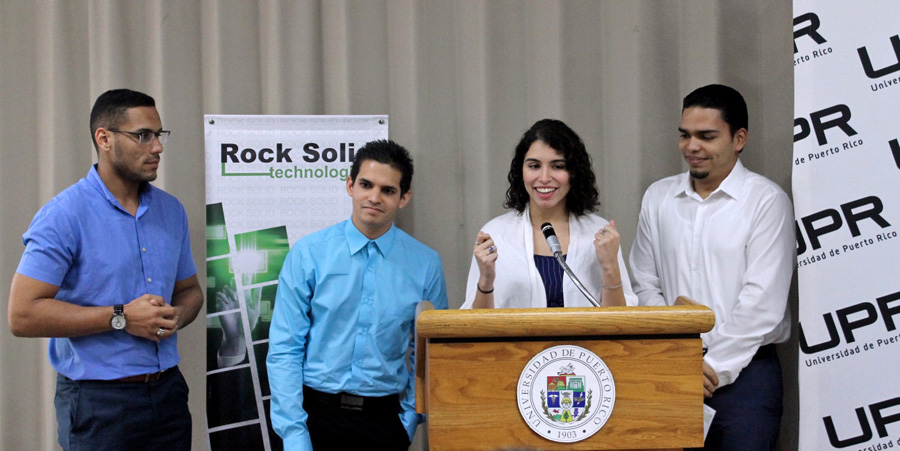 Rock Solid Technologies announced the winners of its 17th annual scholarship program, who are all University of Puerto Rico students who will each receive $3,000 to cover one year's tuition.
This year's prizes are double what Rock Solid had granted in prior years, as it took into consideration rising tuition costs at the UPR, company officials said.
The scholarship consists of a salaried internship for two to six months, during which students work directly in information systems development projects and consulting to clients of the company in Puerto Rico, Central America, the United States, and the Caribbean.
The Rock Solid Scholarships award ceremony was held at the UPR's Botanical Garden, when winners Estefanía Torres-Collado, a software engineering student at the UPR-Mayagüez Department of Engineering; Marcos Cruz-Nieves, accounting student of the UPR-Bayamón School of Business Business Administration; Brian Rivera-Corea and Luis Pacheco Caldero, computer Science students at the Bayamón Campus, were announced.
"We believe in the talent of young Puerto Ricans; that is why we have decided to reassert our commitment to the university community by offering them the opportunity to have work experience before graduation," said Ángel L. Pérez, vice president of Rock Solid.
In the past 16 years, the company has awarded more than 50 university scholarships valued at more than $250,000.
The 2019 Rock Solid Scholarship application period is now open. Students can send their application by mail until Nov. 30, 2018. The requirements to obtain the scholarship are as follows: be a full-time student, having completed two years of university studies, having a 3.00 GPA or more, and pursuing university studies in the fields of Computer Engineering, Information Systems, Computer Science or Accounting.
As part of the process, students are asked to submit several letters of recommendation and an essay, in addition to going through an interview process with the Rock Solid management team.