Tradewind Aviation launches service from Puerto Rico to Anguilla, Nevis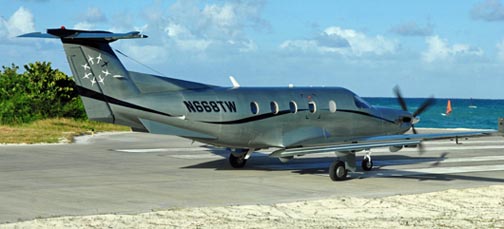 Oxford, CT.-based Tradewind Aviation announced Wednesday the start of its "premium scheduled" nonstop service to Anguilla and Nevis from Puerto Rico's Luis Muñoz Marín International Airport.
Anguilla and Nevis join Tradewind's St Bart's, Nantucket and Martha's Vineyard routes to further establish it as the "premier provider of first-class short range flights serving difficult to reach luxury destinations," the company said.
"I am extremely excited about these newest additions to our routes," said Eric Zipkin, president of Tradewind. "Our premium scheduled service has been extraordinarily well-received in the neighboring island of St. Bart's and I am confident that the same clientele will enjoy the ease and comfort of access to Anguilla and Nevis."
Tradewind Aviation was founded in 2001 and operates executive private charter throughout the world and "premium scheduled service" to Nantucket, Martha's Vineyard, St Bart's, Anguilla and Nevis.
"I'm happy that Tradewind aviation answered my call to provide airlift between the very important route of San Juan – Anguilla," said Haydn Hughes, Minister of Anguilla Tourism. "They have already proven their worth and reliability in the region and I am confident that Anguilla as a premier destination will benefit from their extraordinary service. We're anxious to have them start this service and we're looking forward to a long and fruitful relationship."
To mark its newest routes, Tradewind's flights are now on sale at $350 per one-way travel. Booking is available on its website and via Kayak, Expedia, Travelocity and Trip Advisor.