Treasury: March revenue collections reach $746M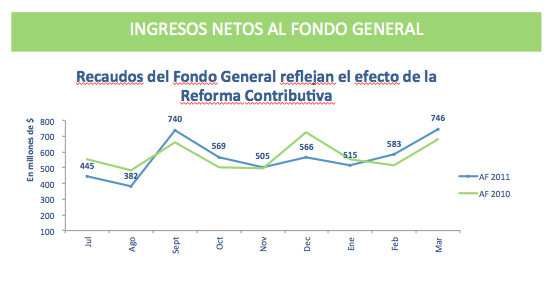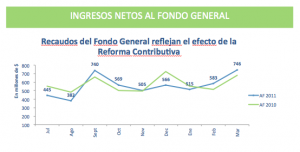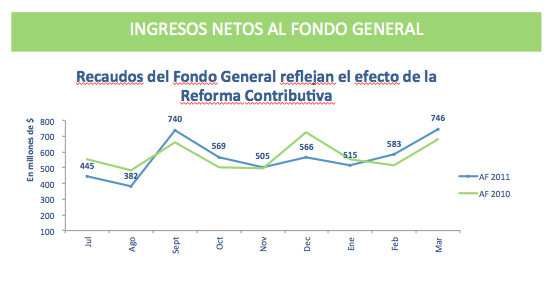 Government revenue collections totaled $746 million in March, a figure that is 10.1 percent, or $69 million over the same month the prior year, the Treasury Department said Thursday.
The growth is attributed to a trio of elements: an increase in sales and use tax and motor vehicle excise tax collections, and the revenue being generated through the new 4 percent temporary tax on foreign corporations levied through Law 154 earlier this year.
Treasury Secretary Jesús Méndez said, however, that collections on record for March do not take into consideration the $15.9 million generated through lottery drawings, which were part of the $30 million transferred to the University of Puerto Rico's scholarship fund.
March is the second month in a row in which Hacienda has reported an increase of more than 10 percent in collections, when compared to the same period last year. In February, collections reached $583 million, an increase of $67.8 million, or 13.1 percent over the same month in 2010.
"Taxpayers paid $67 million less in income taxes this March in comparison with March of last year, because less is being deducted from their payroll checks as a result of the relief granted through the tax reform," Méndez said. "However, Treasury managed to collect more net revenue in total. That's precisely what the tax reform is pursuing, reducing taxes for individuals and increase collections from other sources."
The agency collected $89.2 million in sales and use tax revenue and $39.4 million in vehicle excise tax revenue in March. Méndez attributed the growth in each line item to an improvement in the economy, particularly in the retail sector.
The government has collected more than $5 billion through the first nine months of the current fiscal year that ends June 30, Méndez said.
The information and documents contained in "News is my Business" are property of this site. You may not copy, distribute or use this information without the express written permission of this site's creator, unless it is for personal or educational purposes. Fees for commercial or for-profit use apply.