Walmart adds 'Bien Cool' postcards to its shelves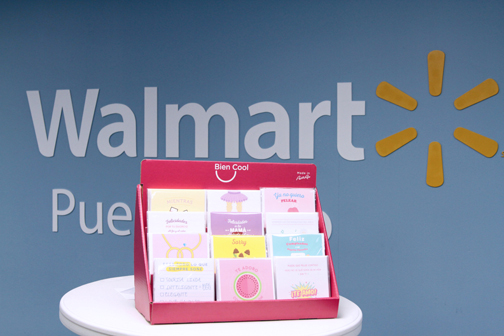 Walmart Puerto Rico announced Tuesday the addition of the "Bien Cool" postcard line, produced by local entrepreneurs joining the retailer's network of island-made products, whose sales inject some $500 million annually for the economy, company executives said.
The postcard line features unique and humorous messages for different occasions, and will be sold at Walmart's Mayagüez, Ponce Baramaya, Cayey, Hatillo, Fajardo, and Caguas stores, said Viviana Mercado, Walmart Puerto Rico's corporate affairs manager.
Josie Arroyo, founder of the "Bien Cool" brand said that aside from the sales boost, entering Walmart's network will "help us gain recognition for the brand in other areas where we haven't had the necessary reach. For a small company, both are essential to ensure a healthy growth of the business and to be able to increase the number of employees according to demand."
With the sale of the postcards, Walmart directly contributes to the development of four distinctly Puerto Rican companies that are responsible for the development of the card's content, concept, design, manufacturing and distribution, Mercado said.
The 180 different "Bien Cool" postcards that are sold at Walmart cover 12 different themes, such as birthdays, weddings, love, forgiveness, graduation, Christmas, mothers and fathers, among others.