Women's Affairs Advocate, Walmart ally against domestic violence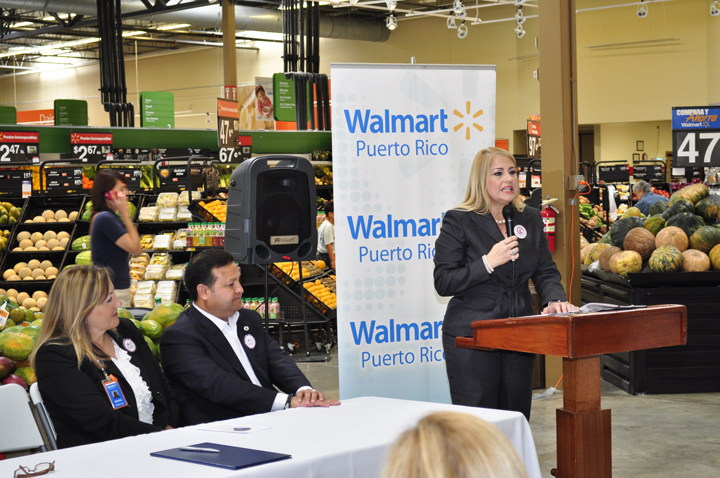 For the second time in less than two months, the Women's Affairs Advocate has teamed up with a large local retailer to continue spreading the word against domestic violence. This time, the agency partnered with Walmart Puerto Rico to reach the thousands of customers who flock to the stores on a daily basis.
"For us at the Women's Affairs Advocate office is vitally important to establish alliances between the government and the private sector is vital partnerships between the government and the private sector in the struggle to foster a culture of peace, respect and values in relationships and society," Women's Advocate Wanda Vázquez said Wednesday. "This way, we also have the opportunity to offer preventive intervention and community support on the issue of domestic violence."
There were 16,000 reported domestic cases on the island last year, Vázquez said.
In May, the agency announced it had joined forces with electronics retailer Best Buy's Women's Leadership Forum, known as WOLF, to launch a series of in-store workshops to address the growing social problem.
The same will happen at Walmart, where store employees will also be included in the effort, particularly those who have direct interaction with customers. That group will wear pins with the taglines "Everyone against domestic violence" and "No to domestic violence," as well as the agency's emergency hotline, 787-722-2977.
"Aware of the island's situation regarding domestic violence, at Walmart PR we want to help prevent this social evil from further affecting Puerto Rican families," said María del C. Betancourt, senior director of Walmart's human resources department. "Together we can encourage our customers and partners to take action, take responsibility for their lives and avoid being victims of domestic violence."