Women-led collective aims to educate through sustainable products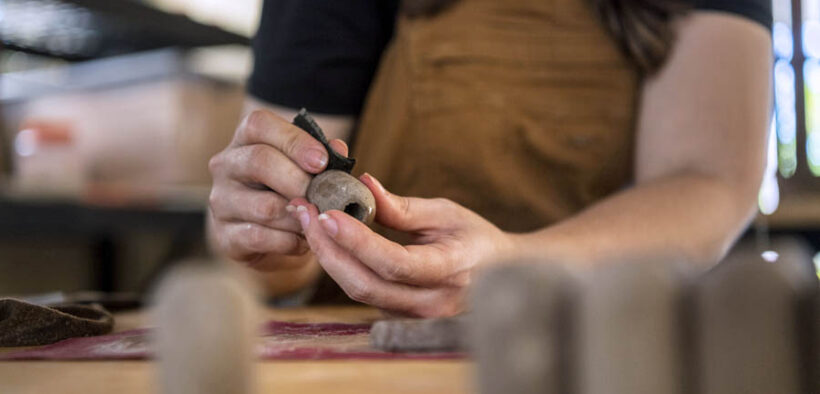 Modo Consciente, a women-led collective of 11 local brand companies, aims to educate Puerto Rican shoppers of their consumerism through their sustainable choices of fashion, beauty products, jewelry, and more.
The brands that collaborate are: Isleñas, MARIMU, Sauca Botanicals, Muns, Esther, YAYI, Materia Madura, Sally Torres Vega, LUCA, Hola Aida, and Concalma.
"The collective started after the COVID-19 pandemic hit as a way to support each other, and through it has been very enriching to share resources, share with each other and hold in-person events, since with this platform, we hold five to six annual events," said Matilsha Marxuach, founder of Concalma.
Marxuach, a designer artist and former professor of plastic arts and ceramics, created Concalma in 2005 after investing $8,000, getting a $25,000 commercial loan, and feeling inspired to create cloth bags for grocery shopping.
Concalma — a local tote bag brand — has 10 of 20 styles selling in the local market. The bags are manufactured at the Cooperativa Industrial de la Montaña, and about 4,500 units per year are sold, split between 3,500 through wholesale and online and 1,000 through retail stores.
The brand distributes their products to Valija Gitana, Tres Palmas Surf Shop and Tereques La Tiendita, as well as had the opportunity in the retail area, distributing through Sales Force and Home Depot.
"We have to be aware that we are destroying the planet simply to generate profits for large companies, 16 years ago it was the conversation we wanted to bring and today it is the one we are having," said Marxuach.
Another brand that is looking to continue distributing their products as well as educate Puerto Rican consumers is Materia Madura, with their home good products made from sustainable materials, such as plantain and coffee waste.
"With the $20,000 funding provided by the Pre-18 program we participated in, we launched our business, and we currently are looking to expand from our 500 square feet location in Río Piedras, as well as get more employees," said Ana Quiñones, founder of Materia Madura.
Materia Madura currently sells more than 1,000 products per year, these being small and medium-scale products to individual consumers as well as large-scale products and/or volume to commercial customers in Puerto Rico, the US mainland and Europe.
Additionally, Quiñones hopes to make Puerto Rico be visible as an artistic hub internationally and then be able to provide support in the construction industry on the island.
Both brands are always looking to educate on sustainability, as well as what it takes on being a woman entrepreneur.
"With a state of empowered mind, I don't see myself different from men. However, I do know that there is an inequality, and I think that they should be aware of how history has always put it on women, and they should take responsibility for the issue to mark the change," said Marxuach.
"As a woman, you have to persevere, be yourself and know that as a woman we bring a lot to the table," said Quiñones.
Modo Consciente's upcoming in-person event is May 13 from 11 a.m. to 6 p.m. at the Museo de Arte y Diseño in Miramar, Santurce to celebrate Mother's Day.