19th Housing Congress to build strategies for sector's growth
Housing and banking industry executives who have been working with local and federal government agencies to develop an all-encompassing plan to stimulate activity in a sector that has been battered by the economy will present their proposals and strategies during the 19th Housing Congress taking place Thursday.
The event's host, the Puerto Rico Bankers Association, will set the stage for a series of presentations on key issues such as: public policy for housing construction; tourist residences as options for economic development; community revitalization strategies; and the collaborative efforts between state and federal governments to develop a comprehensive housing plan.
"The banking industry continues to work in collaboration with other sectors in the search of alternatives that might have a positive impact on the island's housing market in terms of new project development opportunities, economic opportunities and financing," said Arturo Carrión, executive vice president of the Bankers Association.
Strengthening its role as facilitator has been at the forefront of the banking industry's initiatives to help jumpstart a sector that is vital to the economy, Carrión told News is my Business.
The upcoming Housing Congress, which will take place at the Ritz-Carlton San Juan Hotel & Casino Sept. 8, is an large-scale forum that provides broad participation to private sector representatives, state, federal and municipal governments, as well as the legislature and community-based organizations. That collaboration has generated significant legislative and regulatory projects over the years.
During last year's congress, Governor Luis Fortuño unveiled the administration's Housing Stimulus package, which as of July 31 had fueled the sale of 19,168 new and existing homes, according to data offered by Puerto Rico Housing Finance Authority Executive Director George Joyner.
The agency he heads has been in charge of doling out more than $180 million under the Fortuño administration to stimulate new and existing home sales.
During his keynote address, Fortuño is expected to offer details of a recently signed Memorandum of Understanding to spur housing development by making better use of federal funding assigned to the island, Carrión said.
On the agenda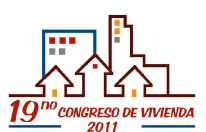 The daylong event's agenda kicks off with a trio of 15-minute presentations addressing the island's economic climate, housing demand status and an update by the Puerto Rico Housing and Human Development Trust.
Mercedes Márquez, deputy secretary of planning and community development for the U.S. Department of Housing and Urban Development, will be in charge of detailing the federal government's role in the comprehensive plan for the island, Carrión said, noting she will speak just ahead of the governor.
"This collaboration will have a significant impact on local public policy related to construction and development of the island's housing market, including projects to revitalize both urban and rural areas, as well as housing programs available to populations with limited economic resources," Carrión added.
Afternoon discussions will shift from plans for underserved communities to ways in which Puerto Rico can capitalize from its condition as a Caribbean destination to develop viable tourist residences, a market that has significant potential, said Hans Moll-Stubbe, president of the Puerto Rico Homebuilders Association.
Citing Census statistics, Moll-Stubbe noted that some 5 million passengers pass through the island's airports annually, of which half ends up in other places.
"What we want to discuss is the economic development potential of the development of tourist residences on the island and the importance of establishing a comprehensive plan to not only so those tourists travel to Puerto Rico as a tourist destination, but that they see it as an attractive destination and the best place to buy a property or home," said Moll-Stubbe, who will moderate a panel discussion on the subject.