1st phase of Bahía Urbana project to be done by summer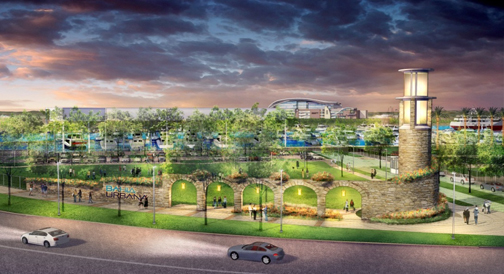 Two years after breaking ground, government officials said Monday the first phase of the ambitious $525 million Bahía Urbana redevelopment project will be completed by summer. The first phase includes finishing improvements to public areas along the San Juan bay's Piers 7 and 8, as well as to Fernández Juncos Ave.
Economic Development and Commerce Secretary José Pérez-Riera said Monday thus far, construction is moving along, "achieving significant improvements in infrastructure and access to Puerta de Tierra, providing greater security and better facilities for residents and visitors to San Juan."
This first phase began in the summer of 2010 with work on the so-called far east development of the project, located adjacent to the San Juan Yacht Club where the government invested $700,000 to demolish a number of empty structures and clean up the areas.
At the same time, work got underway on the $2.8 million in improvements to Fernández Juncos Avenue, the main road connecting the bay from the marina to the docks in Old San Juan, which will be be retrofitted with better walkways and crosswalks, lighting, pavement and a flushed sewer system.
Construction on Piers 7 and 8, the main component of the first phase that began last summer, includes a $2.4 million upgrade to pedestrian, landscape and recreational facilities adjacent to the marina, and a $21 million investment to spruce up the surroundings and install an artisanal market, an urban beach, a restaurant, a trapeze school, sail boat dock, a pier and a large lawn area for concerts and shows.
"The construction of Bahía Urbana's first phase continues moving forward in benefit of the island's economy, and in benefit of our people," he said. "Bahía Urban seeks to activate and renew the San Juan bay's waterfront area, and help improve San Juan's physical, social and economic environment and its long-term prospects."
These projects are added to the construction of Pier 6, which is being improved at a cost of $37 million that will cover pedestrian, landscaping and recreational area improvements, including a water taxi station, a base for seaplanes and several sailboats slips.
"Although technically this project is not part of Bahía Urbana, its position at the west entrance makes it important," Pérez-Riera said. "That's why the Bahía Urbana has joined the Port Authority and Infrastructure Financing Authority to oversee and design this project to ensure it is developed in harmony with the other components of the Bahía Urbana project."