A farm to table brunch experience in the heart of San Juan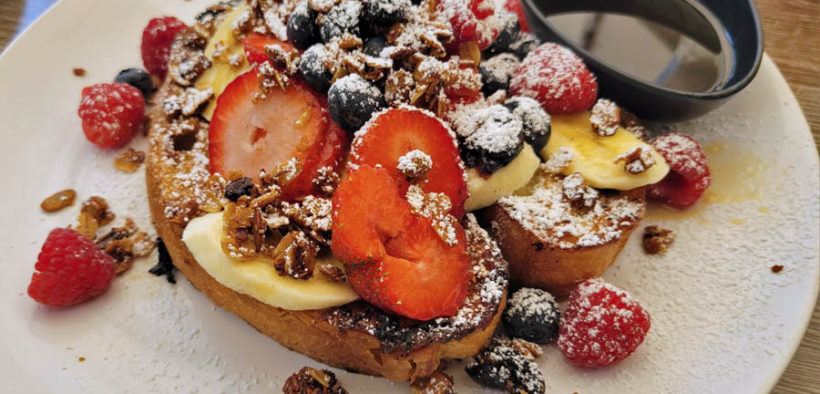 For this foodie adventure, I set out on a mission to find a brunch that stood apart from the usual. I can't believe that it was a Google search what led me to Paulina Escanes' Gourmandize. I know how Google's search results work. In fact, I teach it to my digital marketing students. What I can't believe is that not one person I know has taken me there before, not even mentioned it. 
Parking was easy, as Gourmandize is in Condado's Ashford Avenue, right beside the hospital, so we parked in the multi-story parking lot within the same building. It was the classic brunch Sunday and we—my sister, my son, and I—arrived around 1 p.m., later than my usual brunch time. The place was crowded with locals, already a good indicator, and there were tourists outside waiting to be seated. Fortunately, I had made reservations through Gourmandize's website, so our table was ready, waiting for us. The restaurant has indoor and outdoor siting, which you can choose when making your reservation.
Something I really appreciate about Gourmandize is that they have vegan and gluten free options, and they are clearly identified on the menu. In fact, owner Paulina Escanes takes pride in providing a balance of healthy and comfort food with locally sourced ingredients.
We ordered the chilaquiles with chorizo and Manchego for my sister, vegan tacos al pastor for me, and French toast to share. My son ordered his breakfast favorite, pancakes with chocolate chips. It was the half portion, so only one pancake, but it was the fluffiest pancake you can imagine. It is certainly the fluffiest one I have seen.
I was told the chilaquiles were a very popular dish, and they did not disappoint. Tortilla chips were mixed in with the scrambled eggs, which were very savory and had a slight kick (hot, spicy), and both the sour cream and refried beans tasted light and freshly made.
Served on a blue corn tortilla, the cauliflower tacos were also flavorful, and the pineapple balanced out the spicy sauce that appeared shy on the plate. Taco orders come in two sizes, you can have 2 or 5 tacos. Since we ordered a third item to share, two tacos was the perfect portion. If that is all you are having, though, go for the full 5 tacos.
Lastly, and unintentionally, we tried the French toasts. The yummy ciabatta bread made by local artisan bakery Horno de Pane was perfectly caramelized, and the fruit on top (blueberries, strawberries, raspberries, and banana) was a great compliment. It also comes with granola, which I could have done without because it tasted a tad bitter.
After all this food, we did not have room for dessert, but the selection looked mouthwatering! We shall come back for the pastries, perhaps on a follow-up visit to try their daily lunch and dinner menu.
Our waitress was friendly and attentive, and the food came out faster than one would expect with a full restaurant. It did take a while to get our check and pay, but it could have been a case of the Sundays on a Caribbean Island mood. With chilled mimosas in hand, who can be mad?