AA introduces meal reservation for 1st, Business class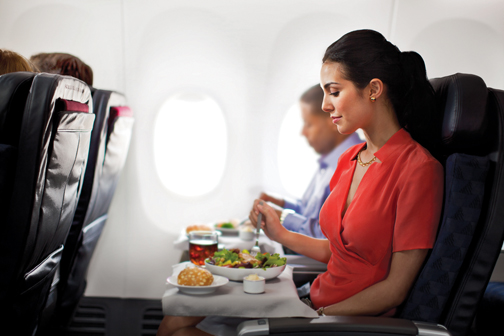 American Airlines announced its entrée reservations program, becoming the first domestic airline to offer premium class customers the opportunity to review menu options and pre-select their desired meal prior to their flight's departure.
"Our entrée reservations program is another example of our desire to personalize the travel experience for our customers in our premium cabin," said Rob Friedman, American's vice president of marketing.
"We're sharply focused on investing in innovative products and new technologies as part of our continued effort to provide industry leading experiences as we build the new American," he said.
The entrée reservations program gives First and Business Class customers traveling on flights between John F. Kennedy International Airport (JFK) and Los Angeles International Airport (LAX) and flights between Dallas/Fort Worth International Airport (DFW) and New York LaGuardia Airport (LGA) the option to select their onboard meal in advance of travel.
On Nov. 15, the entrée reservations program will also be available on all flights between JFK and San Francisco International Airport (SFO), as well as flights between Chicago O'Hare (ORD) and LAX; ORD and LGA; and DFW and LAX.
In addition, American plans to expand the program to all domestic flights by the first quarter of 2013 and to all international flights by the second quarter of 2013.
Once a flight is ticketed, premium class customers can go to AA.com between 30 days and 24 hours prior to the flight's departure to make their meal selection.