Agencies list economic development initiatives launched since Jan.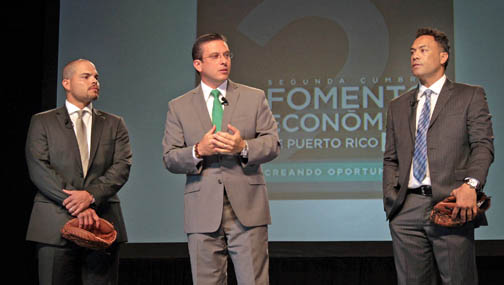 The second Economic Development Summit took place at the Puerto Rico Convention Center Tuesday, when members of Gov. Alejandro García-Padilla's economic team summarized what agencies have been up to since January to further the administration's agenda to spur private-sector jobs and activity.
Details emerged during a brief question-and-answer session moderated by Economic Development and Commerce Secretary Alberto Bacó at the event that drew about 400 participants.
Puerto Rico Industrial Development Company Executive Director Antonio Medina said so far, the agency has identified three key areas of potential growth for the island: biopharmaceuticals; information technology; and so-called "flag" industries.
"In the medical devices sector, we know there are many companies considering expanding and adding new product lines to their Puerto Rico operations, increasing payroll, all in response to the sector's global growth," Medina said. "As for flag industries, it's a sector that has pretty much created by itself and there is now a critical mass. We're working on organizing a cluster to sponsor specific business activities to get the word out about the benefits these types of companies have in Puerto Rico."
Flag companies are based on U.S. soil and employ U.S. citizens, meeting the requirements for federal government procurement.
"These companies are growing because more indsutries are increasingly requiring that their products be made on American soil, and we can take advantage of that," Bacó said, noting the García-Padilla administration will host at least 10 more gatherings like Tuesday's during the rest of the term.
Meanwhile, Roosevelt Roads Redevelopment Authority Executive Director María L. Blazquez-Arzuaga confirmed that the agency expects to sign off on the transfer of Parcels I and II from the Navy on May 7, paving the way for redevelopment of the former naval base in Ceiba to get going.
"We hope to have RFPs out by summer and be able to award projects and have the start in 2014," she said.
Approximately 3,000 acres will be open for development by zones, she said.
Meanwhile, José Maeso, executive director of the Puerto Rico Energy Affairs Administration, confirmed that the next financing cycle for eco-friendly projects through the "Green Energy Fund" will open in early August.
Since its inception, the fund has made subsidized the development of hundreds of residential and commercial renewable energy projects throughout the island.
The Green Energy Fund is divided into two tiers. The first tier, which will open for applications Wednesday, comprises projects built to generate between 15 and 100 kilowatts of energy. Participants receive rebates of up to 40 percent on the purchase and installation of an energy conservation system. Interested parties are required to participate in a competitive application process that takes place online.
For her part, Ivelisse Acevedo, interim Economic Development Bank President said in the first 100 days of the current administration, the agency has approved 95 loans to small businesses totaling $54 million.
Currently, the agency is working on establishing a collaboration agreement with the Youth Affairs Administration to be able to approve loans of up to $10,000 to that segment of the population looking to develop microindustries. The latter agency would have to guarantee the loans, Bacó said.
Tuesday's event had the distinct appearance of being a major exercise in public relations, complete with appearances by Puerto Rican baseball legends Iván "Pudge" Rodríguez and Roberto Alomar, who flanked the governor during his allocution.
After confirming that his administration has spurred the creation of 16,000 since January, most of them in response to incentives provided through the Jobs Act Now, García-Padilla again handed out bats to private-sector companies that are hiring and "hitting it out of the park" for Puerto Rico.
The same baseball analogy was used during the first such summit held in January, when the law was signed.