AT&T hosts 15th annual 'National High Technology Day'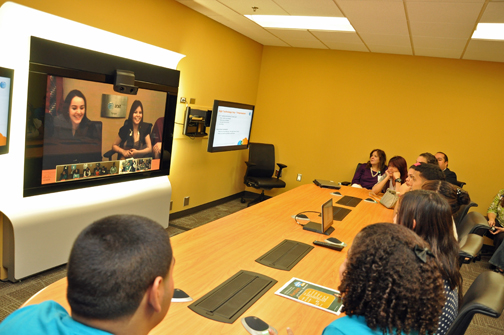 AT&T's Hispanic/Latino Association, HACEMOS, hosted its annual HACEMOS National High Technology Day in 31 cities across the U.S. mainland and Puerto Rico on Feb. 28, making the event's 15th year.
The HACEMOS National High Technology Day engages students at risk of dropping out of high school in hands-on technical activities and interactive workshops designed to encourage them to consider careers in science and technology. This year's event hosted about 1,800 teens.
In more than half of the participating chapters, HACEMOS collaborated with AT&T Aspire Mentoring Academy, the key community engagement program of AT&T's $350 million investment in Aspire, which is focused on high school success leading to college and career readiness.
Through Aspire Mentoring Academy, AT&T employees are engaging in their communities and providing 1 million hours of mentoring to students at risk of dropping out of high school.
HACEMOS National High Technology Day is designed to give students insight into the many opportunities available in the science, technology, engineering and mathematics fields — areas where Latinos and other minorities have historically been underrepresented. HACEMOS aims to build stronger communities by providing positive role models and demonstrating the importance of education to achieve success in life.
"We're thrilled to once again offer our future leaders real-world insight and guidance by offering them full access to our company's senior leaders, employees, and program speakers," said Delia Hernández, National President of HACEMOS. "Careers in science and engineering are extremely rewarding and we hope to spark our participants' interest in these fields."
The theme for this year's National High Tech Day was "Awaken Your Dreams," intended to expose student participants to opportunities in technology fields, the prevalence of technology in their future and the importance of specialized skills and higher education.
Programming varied by location and included an introduction to circuitry and workshops featuring cyber security, mobility and AT&T U-verse technologies. In addition, there were specialty tours, keynotes from top AT&T executives and students connected with other high schools using "AT&T Telepresence Solution," AT&T's advanced, high definition videoconferencing service.  Students also had the opportunity to simulate the dangers of texting while driving through AT&T's It Can Wait campaign.