PRMCA seeks cannabis industry support for Hurricane María relief efforts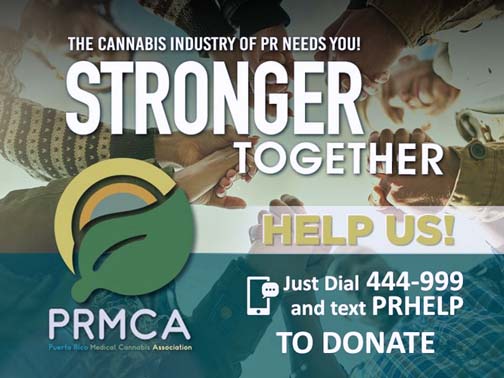 The Puerto Rico Medical Cannabis Association (PRMCA), the Department of Economic Development and the PRMedcannbiz consulting firm joined forces during MJ Biz Con 2017 to raise awareness about the ongoing need for assistance in Puerto Rico in the aftermath of Hurricane María.
The "Stronger Together" campaign is accepting donations by texting PRHELP to 444-999. Contributions go directly back into the community and make a significant difference in rebuilding, PRMCA officials said.
"Our mission for MJ Biz Con is to work with fellow cannabis professionals to help raise Funds for victim relief for the still-suffering Puerto Ricans in the aftermath of Hurricane María," said PRMCA Spokesperson, Mimi Pérez.
"Since María made landfall more than 50 days ago, many of the 3.4 million residents of Puerto Rico are without drinkable water, cell service, electricity, and basic human needs. Please visit our booth to pledge your support to your fellow humans in need and show how we are all 'Stronger Together,'" she said.
While the suffering has been "tremendous and prolonged" in Puerto Rico, the cannabis industry has exhibited its readiness to face obstacles, where 21 out of 29 dispensaries and nine out of 11 growers are still operating after the catastrophe. Despite their resilience, they face ongoing obstacles to receive critical utilities and supplies to continue to support their community, she said.
Medical cannabis businesses and patients cannot receive the same type of emergency relief and support from the federal government, making it even more challenging for patients to continue to receive treatment.
There are more than 200,000 veterans in Puerto Rico, many of whom use medical cannabis to treat PTSD. Patients who are already struggling to secure food and supplies with limited income as they rebuild are facing difficult choices of medicine or other critical needs.
The fundraising efforts look to support the patients of Puerto Rico with the ability to receive important care without having to compromise other critical resources.
By combining efforts across the cannabis industry, the PRMCA believes it can show that both the Caribbean people and the cannabis community are "Stronger Together," the association said.
The PRMCA shared fundraising, educational information and a virtual reality hurricane experience at the MJBiz Con Expo at the Las Vegas Convention Center at booth #4206 during its participation on Nov. 15-17.
Rums of Puerto Rico also sponsored participation at cannabis industry events around Las Vegas during the conference to further support fundraising.