Castillo steering HP Puerto Rico's revenue into the billions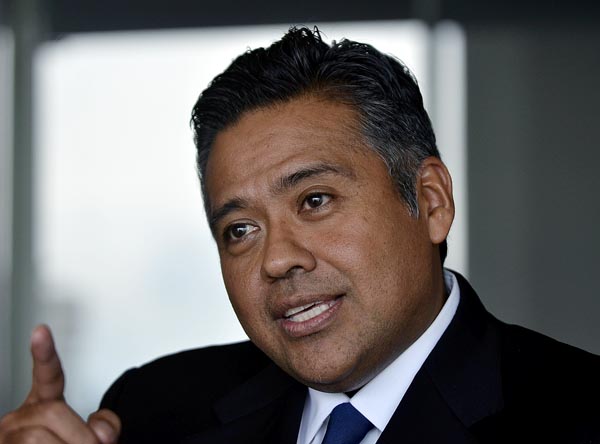 Tech giant Hewlett-Packard — like many other multinational companies — has experienced its share of fierce competition that, coupled with a suffering economy, has elicited massive lay-offs and a significant restructuring in recent years.
However, company-wide issues have apparently not disrupted HP Puerto Rico's sales and manufacturing units, which have bucked the trend by increasing revenue opportunities and reaching beyond the island's geography to expand their scope, said Martín Castillo, who three months ago was named general manager of the company's Caribbean region enterprise group.
"On a global level, our company has had many situations to deal with, as have other companies. But Puerto Rico's success resides in an evolving and disruptive model that is able to adapt to the changes driven by client needs," said Castillo, who has been a driving force behind HP's steady growth since arriving to the island in 2000.
"The thing is that people associate HP's operations in Puerto Rico solely with manufacturing, but the truth is that we've been diversifying. When I got here, HP had a staff of 800. Today, there are 1,200 people working in manufacturing and sales," he said.
"We have to credit our colleagues in the manufacturing end, who have had the vision to find pretty unique market niches to keep the operation growing," he said, referring to the manufacturing complex that has done business in Aguadilla for nearly four decades.
In his new post — which expands his list of responsibilities beyond those he had when he first came from Mexico to head the local operation as general manager in 2000 — Castillo is looking to the rest of the Caribbean islands for new business opportunities, with one important goal in mind.
"The $500 million in sales that we achieved last year should be doubled within three years," he said in an exclusive interview with this media outlet.
Castillo's return to his post comes after a two-year hiatus during which he was appointed sales director for the corporate and enterprise segment of HP's multi-country area comprising Central America, Caribbean, Puerto Rico, Venezuela, Chile, Peru, Colombia, Argentina, Ecuador, Bolivia and Paraguay.
In that position, Castillo was not involved in the day-to-day of the entire Puerto Rico operation as he was back in 2000 and is again now.
Three-pronged strategy
To achieve that aggressive goal, Castillo is relying on driving "creative ways to help our clients add value. We have to develop high-quality products and services that invite clients back to buying HP products."
"We have to identify the trends that drive them to remain on that technology wave for a long time," he said.
At present, HP corners 30 percent of Puerto Rico's information technology market, but Castillo said that's not enough. By the end of that three-year cycle, HP should be commanding at least half of the island's IT sales and a good chunk of that same business in the Caribbean.
And the Hato Rey sales office is already on it, he said
"There are 34 Caribbean islands, and we have solid presence in 18 of them, so there's significant room for growth in the islands we haven't touched either through direct sales or through channels and resellers," he said.
Castillo said Trinidad & Tobago, Jamaica, the Cayman Islands and Bermuda are the most promising of the Caribbean targets, as they host businesses with significant annual revenue.
"We're going to be working more aggressively in the English-speaking Caribbean, focusing on the subject of cloud computing, using our data center in Aguadilla as the hub for that type of activity," he said. "We're also going to be offering consulting services with our San Juan-based staff, which is some of the most innovative and creative people that we have. Their ability to adapt to new market realities and work as a cohesive team has given us a competitive edge."
Innovation, geography not mutually exclusive
So much so, he said that local executives have traveled halfway across the world to HP labs in India and China to learn processes already working in other markets and adapt them for Puerto Rico and the rest of the region.
"Since we've had Meg Whitman leading our company, we've taken on the approach of being honest with ourselves. We have had to figure out what things we can do creatively for our clients. In Puerto Rico's case, early adoption has played a big role in allowing us to incubate ideas that can later be replicated to the rest of the region," Castillo said. "Innovation is not synonymous with geographic size. Puerto Rico is an excellent incubator for regional projects."
And while it seems that he may be back to where he started, Castillo said the company's current circumstances and goals are radically different.
"This is a more consolidated HP that must continue growing. We have a very mature team that we must drive to the next level," he said.