Claro launching LTE in San Juan metro area next week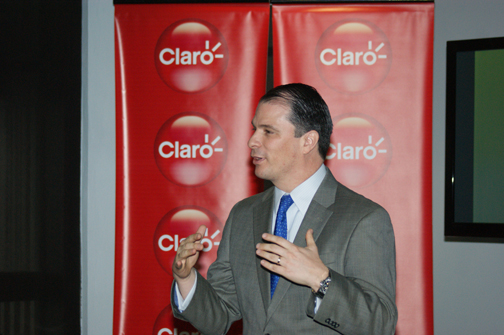 Wireless speeds for Puerto Rico Telephone (Claro) customers are about to get a whole lot faster.
Starting next week, the carrier owned by telecommunications giant América Móvil will turn on its fourth-generation Long Term Evolution (LTE) high-speed broadband platform in the San Juan metropolitan area, company President Enrique Ortiz de Montellano said.
"We're ready. We've been doing trials all year and we already have full coverage in the San Juan metropolitan area," he told News is my Business earlier this week, prior to meeting with members of the media Wednesday to offer a demo of the speeds that will be available through LTE.
Claro customers will need to buy LTE-capable equipment to enjoy the full download speeds. Initially, the carrier will introduce data devices, including USB data sticks, to offer its next-generation mobile broadband service.
"LTE is all about high speed and high capacity, which is ideal for data services," said Ortiz de Montellano. "So that's the way we're going."
Ortiz de Montellano said the total investment for this year's technological overhaul is estimated at $250 million, including the HSPA+ and LTE upgrades. Next year's planned $200 million investment will cover the new areas where it takes LTE.
The local LTE deployment represents the second major network upgrade for Claro this year. In February, the company unveiled its HSPA+ wireless broadband network, only to follow it up less than a month ago with the announcement by its parent, América Móvil that it would be rolling out LTE in several cities in Mexico and Puerto Rico in 2012.
However, those plans have apparently been moved up several weeks and mirror similar moves by competitors such as AT&T, which included Puerto Rico in the first 15 markets where it would be launching LTE starting Nov. 20. Open Mobile is also getting ready to deploy LTE islandwide next year, becoming the only carrier on the island and the region offering wireless broadband via a strictly prepaid model.