Construction starts on $49.5M Hyatt Place hotel in Bayamón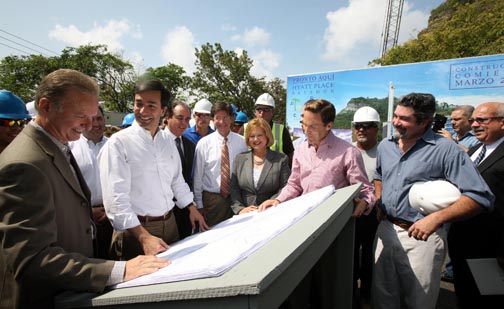 Construction of the $49.5 million Hyatt Place Bayamón & Tropical Casino, which marks the return of the hotel chain to the island after a seven-year absence, was announced Monday by developers PRISA Group and McConnell Valdés Consulting Inc. during a news conference at the Science Park in Bayamón.
Flanked by municipal and central government officials, developers said the hotel is slated to open during the first quarter of 2014. The seven-story, 156-room hotel will feature a 2,000 square-foot conference room, a 4,700 square-foot restaurant, gym and pool, among other amenities. Furthermore, the project will have a 17,300 square-foot casino to be run by HI Development Corp. The future hotel will also feature a multi-story parking garage with a capacity for 250 vehicles.
"Hyatt has a close relationship with Puerto Rico, which is why its return to this market, after a seven-year absence, is very significant," said Federico Stubbe, president of PRISA Group. "This is a vote of confidence the chain is giving local developers, the island's tourism industry and our people."
PRISA Group, McConnell Valdés Consulting and HI Development Corp. formed the Bayamón Hotel Company LLC to build the project.
During the news conference, Gov. Luis Fortuño said the new hotel will meet an "increasing demand for alternative accommodations in the area."
"This hotel will expand Bayamón's hotel offerings, providing alternatives to the thousands tourists doing business in the city, seeking medical care in the excellent facilities we have here and visiting family or just wanting to do some tourism," he said.
The two-year construction phase of the hotel to be located on Route 167 adjacent to the Science Park and Plaza del Sol shopping center, will generate 485 direct, indirect and induced jobs. Once operational, the hotel will generate close to 700 direct, indirect and induced jobs, hotel developers said.
Newly appointed Tourism Company Executive Director Luis Rivera Marín noted that projects such as the Hyatt Place Bayamón & Tropical Casino will help serve niche markets "including retail, cultural, recreational and medical, given the proximity to renowned hospital institutions in the area."
Financing for the project is split between a $29 million loan from Banco Popular de Puerto Rico guaranteed by the Government Development Bank's Tourism Development Fund. Another $7.2 million is being put up by the Bayamón municipal government raised by a municipal lease bond. The developer and investors put up another $13.3 million in capital.
Stubbe said the future hotel focuses on the "urban tourism" concept, a fast-growing category.
"The project seeks to serve guests as well as visitors to the area's medical facilities, sports enthusiasts participating in events at the nearby venues, as well as those doing business in the area," said Stubbe. "As local entrepreneurs, we're committed to developing tourism in Puerto Rico and the opportunity this project provides us as a potential motor for regional economic development."