Convention Bureau launches 'Puerto Rico Meeting University'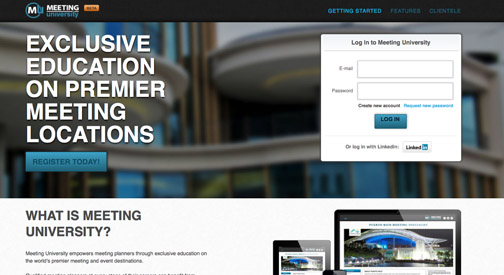 The Puerto Rico Convention Bureau has launched an exclusive online education program tailored to meeting planners, dubbed the "Puerto Rico Smooth Meeting University," that includes courses on topics such as meeting hotels, the Puerto Rico Convention Center, history and culture, golf, shopping, dining and nightlife.
The web-based service is the meeting and convention industry's first centralized education portal, developed by Questex Hospitality+Travel, the owners and publishers of Travel Agent, one of the most respected travel trade publications in the industry.
"We saw a clear need for an online professional development resource for the MICE Market and we sought a partner who shared our commitment to training meeting planners through dynamic content offerings and greater flexibility for how and when they educate themselves," said John McMahon, executive vice president, Questex Hospitality+Travel.
"The 'Puerto Rico Smooth Meetings Specialist' course and 'Meeting University' are a big step to evolving the way meeting planners obtain the tools and knowledge they need to meet varying customer requests worldwide while shortening the sales and implementation cycles," he said.
Through a series of online courses, "Puerto Rico Smooth Meeting University" provides meeting planners with the latest and most comprehensive industry education available on hosting a meeting in Puerto Rico. After completing the, planners earn a "Puerto Rico Smooth Meeting Specialist" designation, complete with a rewards component.
In addition to detailed lesson plans, "Puerto Rico Smooth Meeting University" also provides detailed room layouts, an online RFP form and other helpful tools for planning a group program on the island.
"'Puerto Rico Smooth Meeting University' offers busy planners a thorough understanding of Puerto Rico as a meetings destination and a centraliszd location for planning and booking tools," said Neil J. Mullanaphy, acting president & CEO, Puerto Rico Convention Bureau.
"We're confident that planners completing the series of online courses will not only have superior knowledge about Puerto Rico's sophisticated meetings offerings, but will also understand the benefits of bringing their groups to this world-class destination," Mullanaphy said.
Meeting planners who want to attend Puerto Rico Smooth Meeting University can visit http://www.meetinguniversity.com to create a login and ID.