FEMA OKs $93M more to P.R., allows self-declared home ownership, occupancy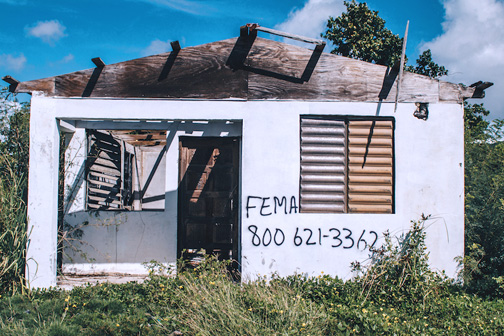 The Federal Emergency Management Agency awarded more than $93 million in additional public assistance grants for emergency protective measures, debris removal and management costs related to Hurricane María recovery on the island.
To date, the FEMA Public Assistance program has obligated nearly $2.7 billion in total funding to the government of Puerto Rico and municipalities.
Emergency protective measures are actions taken to eliminate or lessen immediate threats either to lives, public health or safety, or significant additional damage to public or private property in a cost-effective manner.
The grants were awarded as follows: More than $80 million to the Department of Education to continue providing essential educational services to students in Puerto Rico.; More than $10.4 million to the Puerto Rico Electric Power Authority for protective measures related to the Guajataca Dam; Nearly $2.5 million to Morovis to remove debris as a result of Hurricane María.
FEMA's Public Assistance program provides grants to eligible government and certain private nonprofit organizations. This assistance is granted for debris removal, life-saving emergency protective measures and the repair, replacement or restoration of disaster-damaged facilities.
The program also encourages protection of these damaged facilities from future events by providing assistance for hazard mitigation measures during the recovery process.
The Public Assistance program is funded by FEMA and administered by the government of Puerto Rico. FEMA obligates funding for these projects directly to Puerto Rico.
P.R. survivors can self-declare home ownership, occupancy
In related news, hurricane survivors in Puerto Rico who cannot prove ownership or occupancy of their homes have other ways of meeting FEMA requirements for home repair or other disaster assistance, the agency confirmed.
To receive a home repair grant, owners must have registered with FEMA and must provide proof of home ownership and occupancy. Renters must prove occupancy at the time of the disaster to receive federal assistance.
Puerto Rico's recovery after Hurricane María has been unique in many ways, including these verification challenges. It is important for survivors to know that if all forms of verification were destroyed or are not available, FEMA may accept a signed self-declaration, the agency noted.
"We know that many survivors do not have standard proofs of ownership or occupancy," Federal Coordinating Officer Mike Byrne said. "We're working to remove these obstacles and ensure eligible survivors get the assistance they need to recover."
Survivors who were initially denied repair or replacement assistance on account of unverified ownership or occupancy can contact local legal aid groups for help completing their appeals.
"After registering and having their home inspected for damage, applicants receive a determination letter from FEMA. This letter might ask applicants to provide proof of home ownership or occupancy to be considered eligible for assistance. It's important to understand all types of documents FEMA may consider to verify this information," the agency said.
Proof of ownership includes any of the following:
Deed, title or lease.
Bill of sale or bond for title.
Bill of payment record.
Land installment contract.
Mortgage payment booklet.
Property tax receipt or property tax bill.
Real property structure insurance.
Last will and testament (and death certificate) naming applicant heir to the property.
Manufactured home certificate of title.
Real estate provision.
Quitclaim deed.
Property Title Certificate from Puerto Rico Department of Housing. For more information visit the nearest Department of Housing Regional Office.
Life Estate issued by the Puerto Rico Department of Housing or local municipality.
Meanwhile, proof of occupancy documentation can include:
Utility bill such as electric, water/sewer, etc.
Merchant statement such as bank or credit card statement.
Phone, cable or satellite bill.
Employer statement.
Driver's license or state-issued identification card.
All documents submitted must be dated within three months prior to the disaster.
Self-Declaration
If standard documents proving home ownership or occupancy were destroyed or are unavailable to the applicant, FEMA may accept a signed self-declaration. This is a written document in which applicants declare themselves the legitimate owners or occupants of the property. This document does not need to be notarized, but must include the following information:
Applicant's name, signature and the date.
Address of the damaged house.
How long the applicant owned or occupied the damaged house before the disaster.
An explanation of why the applicant cannot provide standard ownership or occupancy documentation, such as that the documents were lost in the storm, etc.
The statement: "I declare under penalty of perjury that this Declaration of Ownership (or Occupancy) is true and correct."
Applicants need to be aware that in order for the self-declaration to be considered valid the information in the document must match the FEMA application.
Applicants may submit their standard or self-declared proof of ownership or occupancy documentation by uploading the documentation to their FEMA account at DisasterAssistance.gov. Or, they may take the documentation to the nearest disaster recovery center. To find the closest center visit FEMA.gov/DRC.